Quick Look: Potato Head Ugly Sweater
---
Publisher: Fun.com
Year Published: 2022
Holiday Potato
As a child, was your favorite part of the holidays playing with the odd assortment of toys your extended family had? The best of which was Mr. Potato Head? It probably had most of its pieces, even if not though you probably found yourself sharing despite having but one potato body. That part wasn't your favorite. Yet, the holidays might now be intrinsically linked to Potato Head and purposely mixing shoes with a hat and eyes with a mustache or arm.
It might feel odd to relate the holidays to plastic potatoes. But we fully understand. In fact, we share the memory. It's one of the reasons our Mr. Potato Head Ugly Christmas Sweater exists!
Fun Details
Celebrate every existing memory and moment in the making when you choose this exclusive holiday sweater for the festivities! Designed by our in-house team, this licensed pullover is all the fun and silliness of holiday playtimes reimagined!
The tan knit sweater has a classic white Fair Isle pattern across the shoulders and hemline. A brown, potato-shaped outline is featured on the front. Magnetic buttons are attached to the inside of the sweater in strategic spots. Match the included Potato Head accessories to the magnets to dress the classic toy as desired, without sharing, unless you want!
Disclaimer: The publisher provided the Potato Head Ugly Sweater
.
 The opinions expressed in the review are completely my own.

Review:

Overview:
While I never got into Mr. Potato Head as a child to my recollection, (Remember, I have short term/some long term memory loss) I did however enjoy when he came along in the Toy Story films that started coming out after I had kids. It also seemed that my father-in-law got into Mr. Potato Head after this as well. He'd always let us know when he got a new themed Mr. Potato Head. I vaguely remember a Star Wars themed Mr. Potato Head.  So, when the opportunity came to review a sweater of said Potato Head, I couldn't let that pass!

Items Included

Sweater
10 Character Pieces

Product Highlights

100% acrylic
Pullover sweater has all over knit in graphics, outline of potato on front
Felt pieces secure to the sweater w/ magnets, pieces are interchangeable
Rib knit collar, sleeve cuffs and hemline
Exclusively made by us!
Officially licensed
They nailed the whole theme of Mr. Potato Head in my opinion. You get to wear Mr. Potato on your stomach. They also 100% nailed being able to add and remove the body parts with the magnet pieces.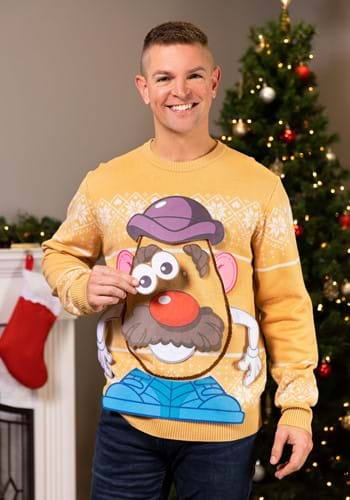 Gameplay:
There'a not much here. As you only get the 10 parts mentioned previously. I'm really hoping there ends up being expansions so I can mix and match the body parts. This would totally add to the value in my opinion.
Like I said they nailed it!
The sweated is oh so kooshi, nice and warm. I like how you can add and remove the body parts like you can on the toys.
The Other:
I'm missing an ear. Not mine, silly, Mr. Potato Heads. What would really rock is if they would add a pocket on the back which would allow for storage of the parts when not in use. Because, let's be honest, who knows when the second ear will go missing? Also, do they offer replacement parts? I'll admit the sweated with the plastic parts attached is quite odd and will take some getting used to, especially if you have to do any moving around.
Final Thoughts:
Overall I'd say this is a cool Ugly Sweater. Bring on the expansion packs, and I'm sold!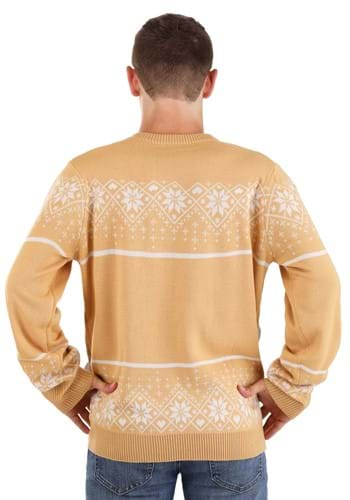 Players Who Like: Mr. Potato Head, being warm on cold days, Ugly Sweaters, Nostalgia 
After reading Lake's review, if this sounds like a Sweater for you at the time of this posting the Potato Head Ugly Sweater is currently on sale

$54.99 

 

for

$49.99 at

FUN.COM Check it out and get yours HERE.
Did you get one based on my review? Please comment below letting us know!

Do you find that you're missing too many reviews as we drop them? Provide your name and email below and we'll keep you in the know of what we reviewed that week as well as other hot news!!!!!
---
Check out the Potato Head Ugly Sweater and fun.com on:
---
Lake Leafty – Owner
Lake was a pharmacy tech in just about every facet you can think of including as a veteran of the United States Air Force. He's also a husband to his wonderful wife with whom he has been blessed to be the father of 5 great children. Due to circumstances beyond his control he got thrown into the world of Tabletop gaming. As an overachiever he couldn't just sit there quietly playing games. So he started podcasting about games in May of 2017. Ever since then has been slowly trying to grow his evil regime starting with
The Giveaway Geek
and now EBG.
Lake Leafty
has done Reviews, News & Interviews which can be found HERE.