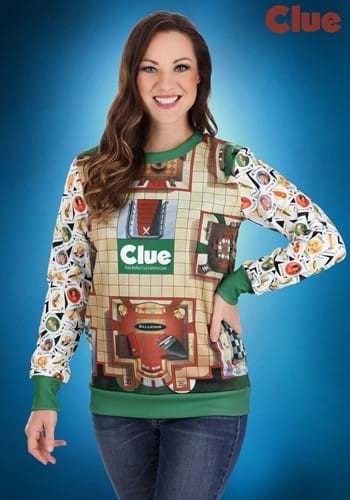 Quick Look: Clue Mansion Sweater
---
Publisher: Fun.com
Year Published: 2022
It's A Mystery
No one knows what happened! Was it Colonel Mustard in the study with the wrench? Maybe it was Professor Plum in the kitchen with the knife? It could be Mrs. Peacock with the revolver in the conservatory… or maybe it was you in the living room with this Clue Mansion Sweater! It's the ugly sweater that may just turn you into the primary suspect during your next gaming session!
Fun Details
This officially licensed Clue ugly sweater is a Made By Us design inspired by one of our favorite board games of all time! The sweater has a sublimated print of the gameboard on the front and back. It even has some of the classic rooms, like the ballroom, the billiard room, and more. The sleeves have printed cards all over them, which include suspects and weapons. Just pair it with your favorite pair of jeans and wear it to game night!
Disclaimer: The publisher provided the Clue Mansion Sweater
.
 The opinions expressed in the review are completely my own.

Review:

Overview:

Growing up I had a favorite game. It was in the clue universe. And if anyone wants to get me something for Christmas, may I suggest Clue – The Great Museum Caper? I had forgotten about this game until a few years back when I learned there are more games than just Monopoly and Uno(I have over 30 editions of Uno somewhere around here). If I recall correctly The Great Museum Caper was that of a hidden movement game. Don't quote me though, it's been a good 20+ years since I last played this one. Clue's always a good game too, especially for those unfamiliar with the hobby. But I like it and in researching for this review I found out they'll be giving Clue an edition based on one of my favorite television shows! CLUE The Office Edition Board Game (Another Christmas idea or my birthday is in October, hint, hint…) When Fun.com asked me if I wanted to review any of their new Hasbro Ugly Sweaters, how could I tell them no? Especially because I don't own any ugly sweaters myself, until now…
100% polyester
Graphic Clue game board print at front and back
Graphic Clue playing cards printed on sleeves
Rib knit collar, wrist cuffs, and bottom hem
Exclusively, made by us
Officially licensed
They nailed the whole theme of Clue in my opinion. You get to wear the game-board on both your front and your back. Not to mention that both sleeves are peppered with the possible killers as well as the possible weapons. The only thing they didn't do in the making of this sweater is divulge who done it, making the re-wearability endless. Endless that is unless you outgrow it or get murdered in it. But not to worry if it get's stabbed through with the knife it'd be an easy sew job #justsaying
Gameplay:
Technically you probably lie down and have your friends play a game of good 'ole fashion Clue on your chest and or back, but let's be honest you know they'd never solve the mystery just to keep you from causing mischief.
Like I said they nailed it!
I guess it would depend upon one's internal temperature but I'm able to wear just a t-shirt and this sweater while delivering the newspaper for a couple hours at around a 30°F temperature outside. However this wouldn't keep my misses warm enough. I also love the cooshy fuzzy feeling I get from wearing it. During the few times I wore this sweater around others only one person commented on it asking "Is that your favorite game?" So it's a good conversation piece as well.
The Other:
Make it a HOODIE for me and it'd be GOOLDEN! Got to keep my bald head warm somehow and this sweater didn't do the trick. Don't be like my kids and wife who tell me not to shave my head….
Final Thoughts:
Usually all I wear in both the summer and winter lead my wife to believe I'm headed to a beach party. However I love this sweater and when I can, I hope to be able to add more to my collection. They've also got one of nerf guns I want to get my son.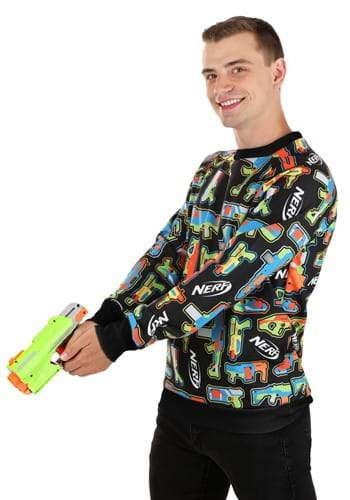 Players Who Like: Clue, being warm on cold days, having your friends play a board game on you while you sleep & anyone with an eye for fashion.  
After reading Lake's review, if this sounds like a Sweater for you at the time of this posting the Clue Mansion Sweater is currently on sale

$39.99 

 

for

$29.99 at

FUN.COM Check it out and get yours HERE.
Did you get one based on my review? Please comment below letting us know!

Do you find that you're missing too many reviews as we drop them? Provide your name and email below and we'll keep you in the know of what we reviewed that week as well as other hot news!!!!!
---
Check out the Clue Mansion Sweater and fun.com on:
---
Lake Leafty – Owner
Lake was a pharmacy tech in just about every facet you can think of including as a veteran of the United States Air Force. He's also a husband to his wonderful wife with whom he has been blessed to be the father of 5 great children. Due to circumstances beyond his control he got thrown into the world of Tabletop gaming. As an overachiever he couldn't just sit there quietly playing games. So he started podcasting about games in May of 2017. Ever since then has been slowly trying to grow his evil regime starting with
The Giveaway Geek
and now EBG.
Lake Leafty
has done Reviews, News & Interviews which can be found HERE.