Quick Look: Table Golf Association: Pro Edition
---
Designers: John Garcia, Gavin Garcia
Artist: Rob Terrell 
Publisher: Table Golf Association
Year Published: 2022

No. of Players: 1-8
Ages: 10+
Playing Time: 30-120+ minutes.
This is it! The ultimate golf dexterity game that everyone is talking about.  This is the premium Pro-Edition that comes with 25 double-sided wooden tiles.  These heavy duty wooden tiles are 5″ across and 5mm thick for a lifetime of gameplay!
Now you and your friends can gather around the kitchen table for the most realistic golf game you'll ever play. Feel the pressure of hitting an awesome drive right down the middle of the fairway. Not just any fairway, but one surrounded by hazards on all sides because you design the course however you want. That's right, you can create and play the golf course of your dreams!
This game has it all, there is even a wind mechanic that can effect the final position of your shot. Play solo, play against a friend, play a foursome or even in teams, no matter how you play, no other tabletop dexterity game brings the kind of excitement and strategic decisions that Table Golf Association does.
Everyone is raving about it!  You can see reviews on our social media channels, and just about anywhere board game fans unite.  You will not be disappointed, BE PART OF THE TGA MOVEMENT!

Disclaimer: The publisher provided the prototype copy of Table Golf Association: Pro Edition
.
 The opinions expressed in the review are completely my own.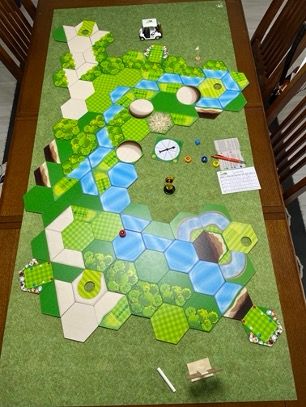 Review:

Table Golf Association brings all the fun of Golf, and it's mechanics, to an accessible, portable, and convenient tabletop format that can be enjoyed solitaire or with a group of friends.
I sat down to play the game with some of my siblings, and played a few rounds solo, and I must say: I am stoked! I really enjoy the mechanics of a game of golf, but could never really get my swinging skills down. This game brings the good parts of the experience, in a much more user friendly, yet still challenging, way. We played through the preset holes, and the desert one is my favorite. I really like the ridge mechanic it offers.
Setup is really easy, only taking a few minutes. Not only is it simple, but it offers so much in the way of customization. You have unlimited ability to tailor every game to your own unique preference, and even experiment with new setups if you want to challenge yourself or try something new.
To setup the game, you need to first decide if you will be playing Standard TGA, where each player completes a hole in turn, or Traditional Golf where you will use ball markers to track your position and take turns after every shot. Optionally you can deal a Pro Player card at random to each player. Determine how many holes you'll be playing and the turn order, Design your hole, determine its par, and get to playing. The instruction book contains the guidelines for setup, and you can really let your creativity go wild.
After setup, you play the game. Roll your weather die before every shot, and line up the wind with the spinner. The weather simulation adds a neat touch of realism to the game, you'll be moving your ball at the end of every shot to adjust for wind. Take your shot and adjust for weather. Apply any hazards, and repeat until you get to the hole and record your score, then on to the next hole. There are also optional PRO rules you can play by.
Sunny weather means no effects are applied, but two levels of wind determine how many balls-length you will be moved away from your destination, and the spinner decides the direction of movement. Hazards include the rough, where you will have to use your non dominant hand to shoot. Trees will require the middle finger of your non dominant hand. Sand requires the thumb of your non dominant hand. Water and cliffs gives you a penalty and requires you to restart your shot. The Ridge rolls your ball down the arrow. These hazards add a great challenge that can really change the tide of your game if you get stuck.
The artwork for this game is very simple, but very elegant and comes with a nice color palette and really gives you that golfing feel. The game comes with 25 high-quality wooden, modular, hexagonal tiles with hazards, fairway, and holes. It comes with a handy instruction sheet and a hazard map. Balls come in white, pink, yellow, and green so you can pick the color best suited for you. They are metal ball bearings embedded in a plastic ring for flicking. For those with disabilities or small children, the game comes with cardboard golf clubs that can be used for hitting the ball. A weather dice and spinner. Sticky-note golf markers. A pad of scorecards. 12 Golf Pro Player cards with unique abilities. And best of all: a golden trophy for the tournament winner.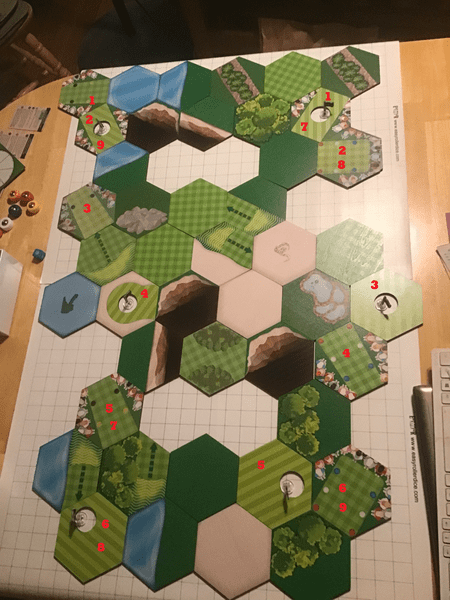 A lot of this game is really good. From the high quality components, to the strong customizability and infinite replay value. The customization and flexibility have to be the best part, combined with the absolutely authentic experience and the skill which must have been needed to so authentically recreate a fun game of golf into the tabletop format, as no one has ever done before. Not only do I enjoy golf mechanics, but I've always really enjoyed dexterity games and flicking things around, so this really is a great combination for me. With the mix-and-match custom course creation mechanic, to the weather variability, to challenging course obstacles: you never know what you're gonna get! It can be very frustrating, but extremely satisfying when you finally pull through.
My few criticisms of this game is that one of my ridge tiles appears to be misprinted, and some of the expansions are a bit pricey. They are definitely worth the cost however, and with the quality of the materials they are to be expected, and I'll be purchasing them myself when I can to expand my TGA collection. Joining the TGA itself can also bring some good discounts that make this criticism negligible. My biggest criticism is that it takes some time getting used to remembering to roll for the weather after every shot, but it will be less of a problem when I get used to it. The ability to play with a lot of customization and house rules definitely does a lot of favors for this, with the popular "Sunny Day" mode, but don't get too used to this if you plan on playing in tournaments. The weather roll DOES actually add a lot to the experience, though, once you get into the habit of it. I'm not a fan of consumable game components, so I'll be getting some of my scorecards laminated, personally.
All-in-all,  I came away from the game having had a really fun time overall. My siblings also really enjoyed it. I think it is very helpful that it can be played solo, but in my opinion it is best played completely with three or so other people for maximum fun, suspense, and excitement. It makes winning the trophy at the end all the more satisfying. This is definitely a game I will be picking up to play on many occasions in the future! I've played a lot of good dexterity games and this has to be one of my favorites. Who said you couldn't successfully bring Golf to the tabletop realm? Well, it appears the fine folks at the TGA have proven them wrong!
Folks, do yourself a favor, and back the kickstarter, get yourself a copy, pickup some expansions if it suits you, join the official TGA at the TGA website for discounts and tournaments, and have fun tabletop golfing!
Fill out this form to be entered to win TGA:
After reading Brennon's review, if this sounds like a game for you at the time of this posting Table Golf Association will be live on KICKSTARTER starting on Tue, May 16 2023. Check it out and back it HERE.
Find out more at BGG. 
images taken from BGG.
Did you back it based on our review? Please comment below letting us know!