Quick Look: Sushi Go!
---
Designer: Phil Walker-Harding
Artists: Nan Rangsima, Tobias Schweiger, Phil Walker-Harding
Publisher: Gamewright
Year Published: 2013

No. of Players:
Ages:
Playing Time: minutes.
In the super-fast sushi card game Sushi Go!, you are eating at a sushi restaurant and trying to grab the best combination of sushi dishes as they whiz by. Score points for collecting the most sushi rolls or making a full set of sashimi. Dip your favorite nigiri in wasabi to triple its value! And once you've eaten it all, finish your meal with all the pudding you've got! But be careful which sushi you allow your friends to take; it might be just what they need to beat you!
If you are a parent, you are probably like myself and keenly aware that buying board games that are supposedly "designed for kids" can often result in more disaster than success.
Of the possible outcomes that may be available to you on such a purchase : It might end up being a game that your child likes, but makes you roll your eyes every time it comes off the shelf ; it might be something that you find to be a great concept, but is above your child's developmental abilities; it might be a complete mess of cheap pieces that are easily broken or scattered across the floor of your home ; or worst of all, it might be all of the above , with the caveat that the game is so horribly designed that neither you nor your child enjoy the experience, leaving yet another item waiting for the recycling truck to pick up next week.
With this in mind, it should come as no surprise that I am somewhat a skeptic when it comes to trusting sales departments at my FLGS. Half of the time in my experience, the staff do not have kids, and I am not sure whether I can take them at their word when they say that "this game is great for kids". Consequently , more often than not, even though I may walk into a store intending to buy something for one of my children, I end up leaving the store empty-handed. And that is perhaps the biggest shame, because a lot of what I see LOOKS good, but I like to be careful to insure that I do not end up wasting my hard-earned money on something that will not see more than one or two uses.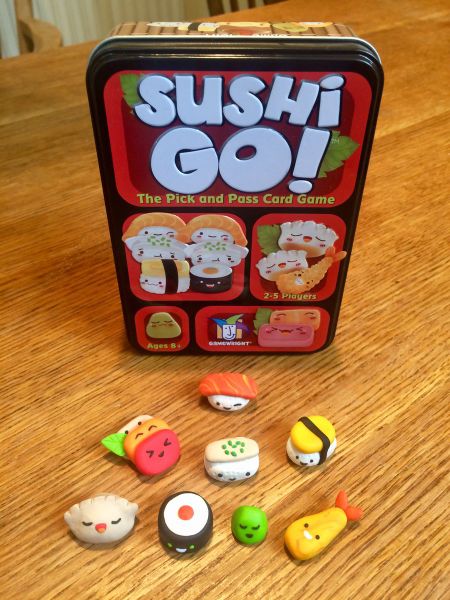 This Christmas season however gave me an opportunity to pick up something that I had almost purchased countless times in the past in various stores, as I had been looking for stocking stuffers and knew immediately what would fit the bill for this occasion, a game wrapped in one of the cutest aluminum tin cases that I have yet to see.
Sushi Go! is a competitive card game for 2-4 players. It is marketed as being for ages 8+ , and is designed to play in a short span of about 15 minutes, with a theme most obviously associated with making Sushi combinations that earn you enough points to win the game.
Upon opening the aforementioned tin, your eyes feast upon a delectable assortment of sushi-related cards sporting a cute, artsy style that really brings home the bacon-wrapped sushi. From tempura and dumplings, to maki rolls and wasabi, there is a decent assortment and variety of cards to peruse as you prepare to play your first game.
And learning the game is a breeze, thankfully. A short 2-page booklet explains the how-to's in an expeditious manner, and can have you enjoying the game in mere minutes.
After the 100+ card deck is shuffled, each player is dealt a predetermined number of cards based on the total number of players in the game, from 8 to 10 cards each. Players will then look at their cards, and choose one card they want to keep for themselves, and put it face down in front of them. The cards that they did not choose are all passed to the player on their left. The card that they placed face down in now turned face up so other players have a chance to see what other players are strategizing for their victory plan.
Players will keep proceeding to take a card and pass them along until all useable cards are laid face up in front of the players. When this is done, this is considered to be the end of the round, and points are tallied that carry over until the completion of the game after round 3.
There are a limited (though still satisfying) manner of ways in which one can score points. If you obtain enough multiples of cards like sashimi or tempura, you can obtain 10 or 5 points, respectively for each required multiple that you acquire (two tempura nets you 5 points, so if you have 4 of these, you get 10 points as an example). Whoever has the most maki rolls in a round will get a bonus. Each dumpling you have will give you more points based on the total number of dumplings you have at the end of the round, ranging from a paltry 1 point all the way to a whopping feast of 15 points! Wasabi does not earn you any points directly, but if you happen to acquire any nigiri on a subsequent turn, it will multiply that nigiri's point value by 3 times, making it an optimal choice to quickly capitalize on nigiri cards you have have seen circulating among other player's decks. And likewise, a card for chopsticks does not net you any points directly when it is laid in front of you, but instead grants a one-time ability that will let you take two cards on a subsequent turn instead of the normal 1 card by saying "Sushi go!".
After the third round, all earned points are tallied, and there is the added stipulation that whoever gathered the most dessert pudding cards throughout the 3 rounds gets a set amount of bonus points, while the person who had the least pudding gets a setback in the form of a point deduction. Then you just do the math and determine the winner!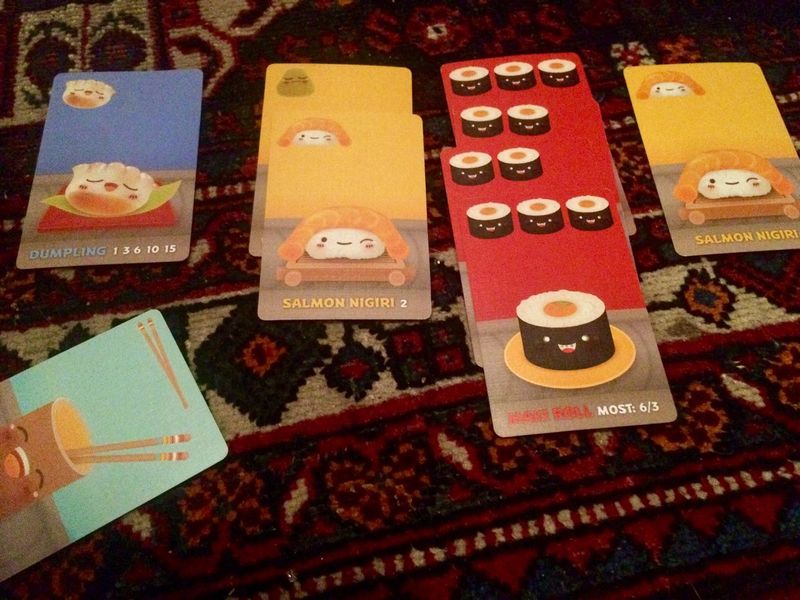 What we think…
Sushi go! ends up hitting its mark for its intended age range perfectly. We find that most 8 years old would be able to grasp the gameplay, and if you are confident of your child's abilities in basic math it gets even better and serves as a great way to introduce the concepts of multiplication in a fun and easy way. Our 5 year old daughter caught on quickly with this game, so do not feel like you have to abide by the 8+ age recommendation ; if you feel your child can handle 2+2 , they can probably handle this game.
The form factor of this game makes it perfect to take on trips, I can see us bringing this with us every time we make a road trip.
And best of all, it remains fun for both kids an adults. While I have to be careful when I say I might rate give Sushi Go! a high rating for fun, often times for kids games I have to see things from a child's perspective and determine if the game is fun for kids when I make my determination for a score for fun. Thankfully, in this instance , it ends up being fun for both kids and adults, and this will definitely not be something that I roll my eyes at whenever it is pulled from our shelf! With that being said, it probably will not be something that you play more than a few times in a given sitting, and each game will feel pretty similar to another after getting familiar with it, so this does affect the long-term replay ability factor. But do not take it to mean that this game it is bad, it is delicious!
Components : 8/10
Theme / Art : 9/10
Gameplay : 7.5/10
Fun : 8.25 /10
Replay ability : 5/10
Note: Images in this post are credited to BGG Page for Sushi Go!
Jazz Paladin- Reviewer
Jazz Paladin is an eccentric at heart — When he is not learning to make exotic new foods at home, such as Queso Fresco cheese and Oaxacan molé, he is busy collecting vintage saxophones, harps, and other music-related paraphernalia. An avid music enthusiast, when he is not pining over the latest board games that are yet-to-be-released, his is probably hard at work making jazzy renditions of classic/retro video game music tunes as
Jazz Paladin on Spotify and other digital music services.
See Jazz Paladin's reviews
HERE
.