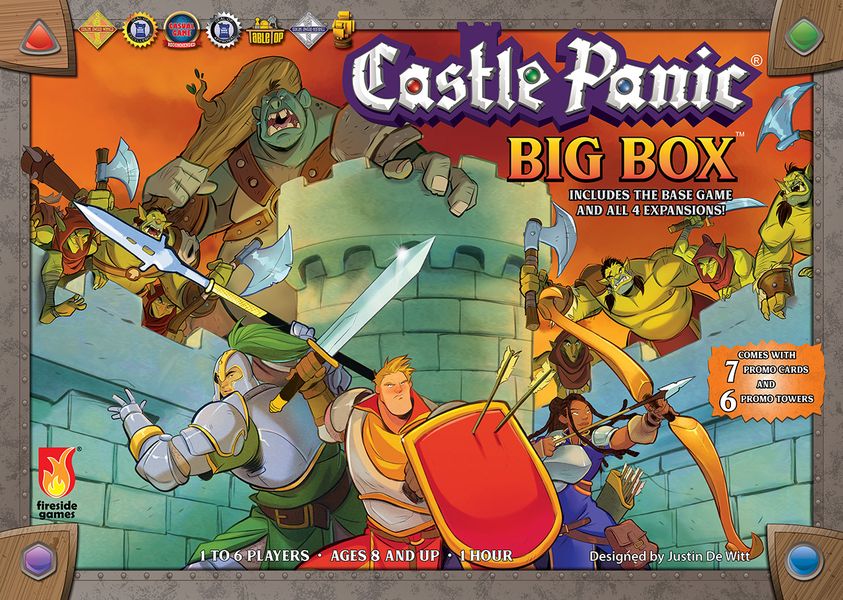 Quick Look: Castle Panic: Big Box
---
Designer: JUSTIN DE WITT
Artists: Justin Chan, Anthony Cournoyer, Justin De Witt, Javier Guzman
Publisher: FIRESIDE GAMES
Year Published: 2019

No. of Players: 1-6
Ages: 8+
Playing Time: 60 minutes.
Castle Panic is a cooperative, light strategy game for 1 to 6 players ages 10 and up. Players must work together to defend their castle, in the center of the board, from monsters that attack out of the forest at the edges of the board. Players trade cards, hit and slay monsters, and plan strategies together to keep their castle towers intact. The players either win or lose together, but only the player with the most victory points is declared the Master Slayer. Players must balance the survival of the group with their own desire to win.
To celebrate the ten-year anniversary, Fireside Games is releasing the Castle Panic Big Box. This extra-large box will contain the original Castle Panic game as well as all three expansions; The Wizard's Tower, The Dark Titan, and Engines of War. For the first time ever, fans both new and old will be able to get the core game and all the expansions together in one box.
Castle Panic Big Box will also include seven promotional game cards and five promotional Tower tokens, one of which has never been available before 2019. Players will also find an updated, comprehensive rulebook that covers the rules for the base game and all three expansions. The insert for the box has a space for all the game pieces and provides a handy way to organize everything players need.
Disclaimer: The publisher provided the copy of Castle Panic Big Box
.
 The opinions expressed in the review are completely my own.

Review:

Is bigger always better? Depends on the size of your sword in battle. It definitely is on the  gaming table when you whip out the Big Box of Castle Panic. 
The 2nd edition design and wonderfully illustrated art work of the game is a must buy for any  fan of the original. See the review on it here. What is included in this big box is ALL of the  former expansions redone in this new and much more modern and energetic artistic style by an 
entire group of talented creators. Included in the box is the base game plus ALL Four  expansions including the latest 2022 Crowns and Quests that transforms the entire game into a  new adventure every time.  
The ability to mix and match the base game with each expansion or groups of expansions  adds immense levels of difficulty and sophistication to working ahead to ensure the safety of  the castle and rain victorious at the end. It is chess with pretty pictures and doesn't require  that old man sitting on a park bench with pigeons around him to play and enjoy. Though I am  starting to resemble that remark. What is most generous about this all-in-one box set is that it includes the 7 proofreads cards and 6 promo towers that were offered at various cons and
purchases over the years. Each offers yet another variation of play or in the case of the added  featured enemy token Agranok in the Dark Tower, a SIXTH card of insane slaying and rule  breaking that will surely frustrate the most strategic thinker. 
The important takeaway is that though I am often critical of a publisher simply reskinning an  existing game to entice you to buy the same game again. However, this design and look  actually changed the thematic flow of the game. And for once, I am trying to articulate how  this non-tactile benefit bucks that opinion. Well, It moved the game from a flat, strategic, war like cascade of unemotional tiles into an energized array of colorful characters which adorn a  more vivid landscape of suspense. Too much? 
If you have played the original enough to have torn a corner of the box cover that happens with  a expeditious task of clearing the table at the end of game night or found the wear of the  tokens to identify that pesky Mage or Knights Plague, its time for this upgrade. Conversely, If  you have not invested yet into this now "O.G." of Coop playable games, then don't seek the  nostalgia of the 1st print, get this version.
The only thing that could make this complete set even better is a deluxe ver…. Wait what is that? There is a deluxe version out with 3D printed monsters and Castle Walls? – <BrrrRING…  Hi Santa, I have my NICE List complete for this year and The Big Box DELUXE version is now  at the top! > 
In a world where completion often breeds resentment or insecurity by many who would be  judged as emotional hemophiliacs , Castle Panic finds the harmonious home with all play styles of gamer. Additionally, the base game and first Wizard's Tower extension has been criticized for allowing Alpha gamer's easy entry to controlling the flow of the game. But the newly added  expansions and specifically the latest Crowns and Quests can cripple their confidence and  requires everyone to handle the tasks at hand at that moment of their turn with little support  from fellow defenders of the keep.  
Remember the 6P's – Poor Planning Produces Piss Poor Performance PER PANICKED PLAYER  – that is NINE actually. The new "2nd Edition" of Castle Panic with all of its goblins, trolls, orcs,  and BOSS baddies keeps each game session a masterful adventure in collaborative conduct.  Defeat is misery with company, but victory is always so much sweeter when shared by all at  the table.  
After reading Bogue's review, if this sounds like a BIG BOX for you at the time of this posting CASTLE PANIC – BIG BOX 2nd Edition is available for purchase for only $119.95. Check it out and get yours HERE or you can use our Amazon Affiliate Link (Won't cost you anymore and it's a way to support us here at Everything Board Games!!)
Did you get it based on our review? Please comment below letting us know!

Do you find that you're missing too many reviews as we drop them? Provide your name and email below and we'll keep you in the know of what we reviewed that week as well as other hot news!!!!!
---
Check out CASTLE PANIC – BIG BOX and Fireside Games on:
An Amazon Affilate Link!!
(Won't cost you anymore and it's a way to support us here at Everything Board Games!!)
---
Shane "Bogue" Bogardus- Reviewer
Born and discarded to the wolves of the great Northern Planes, Bogue grew up a nomad. His recluse behavior landed him in the penitentiary of the Witchic County Municipality with a population 2 -A man and his dog. Life was always a game set on hardcore until he met a mild mannered digital publisher who took him under his wing and showed him the miracles of game design and play testing.  Now he is a thriving member of the Everything Board Games review team and lives with his long lost mother and his pet ferret named Meeple in Austin, TX. (Translation: A retired broadcast television and radio broadcaster turned financial planner.  Bogue is an entrepreneur at heart owning multiple businesses including the latest www.Meepology.comdedicated to growing and maximizing the gaming experience 
for current and new gamers to the hobby. He and his son hosts the monthly joystickshow.compodcast on video game reviews heard anywhere you get your downloads. Bogue lives with his wife, two teenage boys and his dog "Pepper Potts" in Austin, TX.)
See
Shane "Bogue" Bogardus

 reviews 
HERE
.