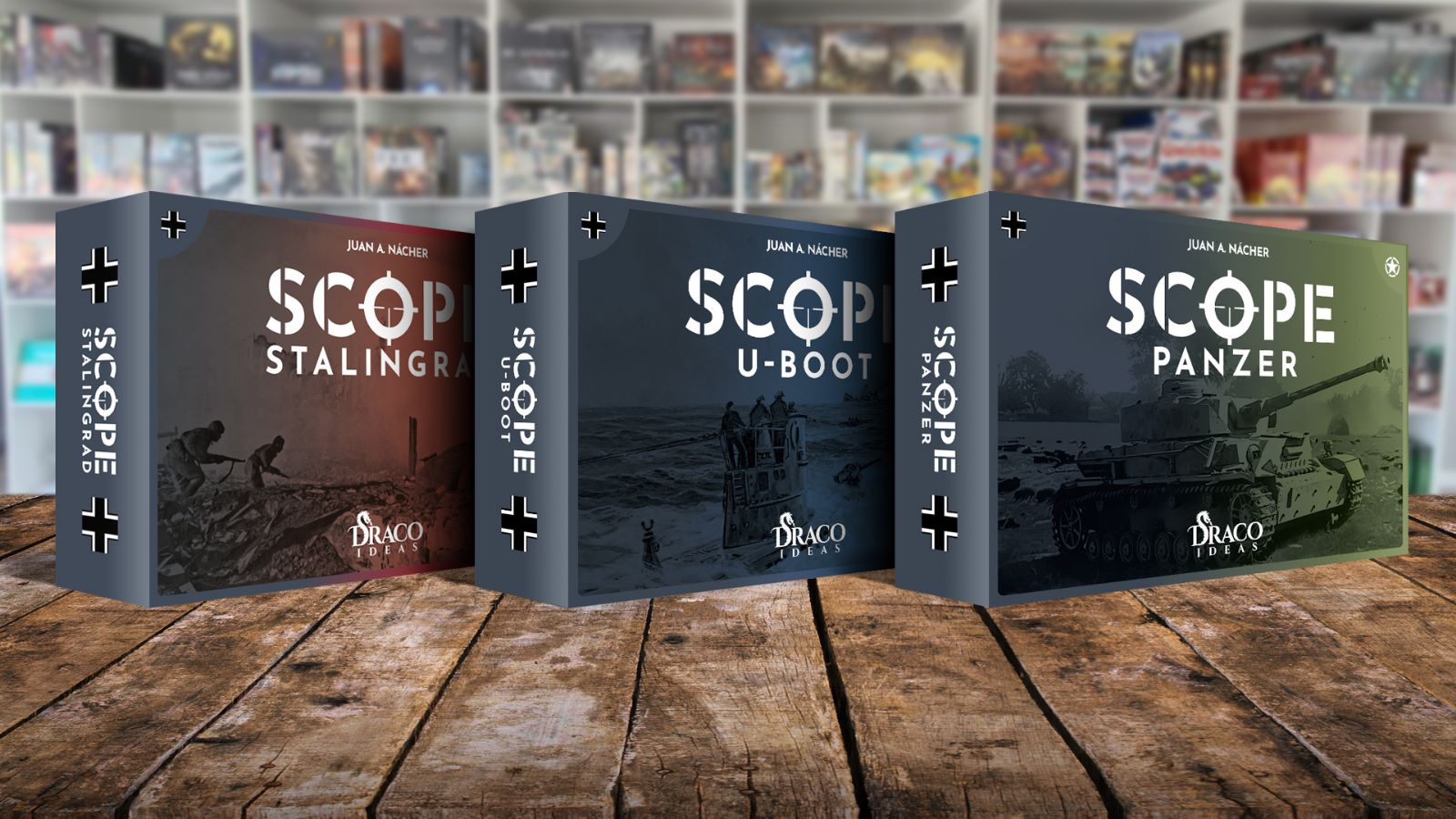 Quick Look: SCOPE Panzer
---
Designer: Juan A. Nácher
Artists: Matias Cazorla
Publishers: Draco Ideas 
Year Published: Currently on Gamefound link at the bottom of this Review.

No. of Players: 2
Ages: 12+
Playing Time: 10-15 minutes.
I had checked out the Draco Ideas title,
Nexum Galaxy
, recently and was really impressed by the relatively unknown (in my region) title.
They reached out to see if I'd be interested in checking out Scope: Panzer and I volunteered right away. As their campaign is live on Gamefound, we set up a meeting via Discord and played on Tabletop Simulator. I'd like to thank them for being extremely accommodating to my schedule and playing at midnight in their timezone. I was joined by Juan, the designer, and Javier Romero from Draco Games. Both were very friendly and passionate about their project which made for a great playtest and night overall. Panzer is the newest title in the Scope trilogy which features tank battles using actual tanks mobilized by the American and German forces.
World War II, 1944-45, after landing in Normandy, the Allied troops regained the territory of Western Europe. The support of armored vehicles is fundamental in this terrain dispute. The geography and vegetation of this theater of operations allow concealment and the cunning of tank crews to play a decisive tactical role.
Scope Panzer is a tank combat card game set in the European theater of WWII. One player leads a squad of American tanks, which faces a squad of German tanks commanded by the other player in a battle of ambush tactics and close-range encounters.
Disclaimer: The publisher played the digital prototype of SCOPE Panzer with me online
.
 The opinions expressed in the review are completely my own.
Review:

Initial Impression/Components:
I played this game via TTS and did not see or feel the physical components. However, I have played titles by this manufacturer before and I am confident the quality will be up to industry standards. This is one of those rare titles where I'd actually encourage paying extra for the playmat. As the game is card based and along a large grid, it really helps in keeping everything organized and looking sharp. Of course, you can easily play without a playmat, but it felt like it added to the experience to me. See the image below for the contents of Scope: Panzer.
Favorite:
I enjoyed the battle mechanic to determine a hit or miss. You take a hit card for each firepower your card has, a miss per distance away and one per armor the enemy has. These all get shuffled together and one is drawn at random to determine whether or not the shot was successful. In this way, though the probability varies, every unit has a chance to score a hit against another.
Least Favorite:
There is no catch-up mechanic or handicap in the game. Not that it needs it as a 10-15 minute game, or that there is a catch-up mechanic in war, but it is a game that some players might desire one. For example, even though you can have some control over your odds, the hit/miss system is luck-based. As a result, you could lose due to bad luck pretty easily rather than a foiled strategy. Personally, I think a catch-up mechanic would likely ruin the experience of the game but I thought I'd mention it all the same.
Hidden Movement
Memory
Secret Unit Deployment
Area Control
Rules:

The rules are simple with only 3 main actions: move cards within your area of control, explore and/or move within an area of partial control, or attempt to target an enemy. Though the rules are straight forward, they go in-depth for particular situations and as a result have a 20+ page rulebook that is mainly picture examples. Here is a link to the rulebook:
I'd suggest starting off with the regular rules for the first game only as the advanced rules drastically improve the gameplay and opens up more strategic play.
Areas they did well:

– Rules explanation is thorough with a lot of visual examples
– Fast turns and gameplay
– Few decisions / actions to choose from
– Hidden movement was cleverly done by taking a quadrant to switch around at a time
– The advanced rules made gameplay feel way more accurate and made sense
– Thematic tie-in
– Historically accurate tanks/equipment
– Bonus when moving for having area control
– Can still pull off some amazing plays with low odds
– Bonuses / penalties for the combat were done well and easy to calculate
– Game length is short and can be played multiple times back-to-back
– Playmat added to the game experience rather than just being a background image that cards are laid on
Areas they could have improved:
– I didn't play enough games to judge, but I do worry that with the advanced terrain (lake, plain, mountains, and hills) opens up some interesting plays but might be too limiting as they cannot be moved when repositioning cards within a quadrant and make it harder for you to hide anything there. Hidden movement is a large part of the game and a mechanic that takes away from that could potentially throw a wrench in the gameplay.
– It would be interesting for advanced players if your units were randomly assigned or picked by your opponent.
– Targeting the same unit currently removes a miss possibility from the deck, but it could be interesting if instead it added a hit possibility. This way all units increase their chance equivalently.
– I think it could also be neat to have a single ability at the start of the game such as a mine, a spy, or decoy. The mine if the enemy goes to move there would take out one enemy unit within that quadrant. A spy when turned over could force an enemy to reveal one of their troop locations. A decoy could show as a successful target which can be attacked which wouldn't trigger a combat but would reveal the attackers location. Just some food for thought for house rules if anyone was interested in trying something.
During our playtest, I capitalized on attacking the same target multiple times and was able to take from a hole in the opponent's front line. Knowing they didn't have any other units on that side I chose to rush the backline to satisfy the win condition of controlling the enemies back line. They made an honorable last stand attacking my back line but I had enough time to turn over and occupy their back line. I really liked this moment because even though I won through this method, with the hidden movement, I could easily have bluffed going that way and had flanked their unit that attacked my backline. Having these kinds of options for a great finish makes for great plays and exciting memories with friends.
 Overall:

For a 50-card game, Scope: Panzer delivers a really interesting game of cat-and-mouse with room for clever tactics and explosive finishes. I'd estimate I've played around 100 unique board games with a similar number of components/cards and this one is a worthy contender amongst them for your attention. This title will be my go-to for a hidden movement tactical game for two players. I don't know if it is replacing anything in my collection to do so, or if it stands alone but either way, I'm pumped to see this project deliver! Great work.
Final Thoughts:

Draco Ideas sticks mostly to the wargame genre and has proven their ability to deliver a sound and interesting game time and time again. With over a dozen titles in their catalog, they are becoming veterans in the field and definitely a household name in the EU (they are based in Spain). I think their English translated titles and distribution into North America is going to grow dramatically in the coming years and the brand will be more widely recognized. One thing is for sure, if they keep pumping out quality products, their fan base will naturally grow along with them. I know one impressive fact is that their last 10 campaigns went more-or-less according to plan with fulfillment being completed on time, and remaining within budget. It's a rare thing these days to get a product on time and budget, so to me, as a backer, they've built a well-deserved trust in their brand that backers can rely on.
I'll see you next time, back here at The Game Table,
Brad Hiscock, aka Zerility
Here's a link to their live campaign and website:
After reading Brad's Review, if this sounds like a game for you at the time of this posting SCOPE Panzer is currently GAMEFOUND. 
Check it out and back this project below!
Did you get it based on our review? Please comment below letting us know!

Do you find that you're missing too many reviews as we drop them? Provide your name and email below and we'll keep you in the know of what we reviewed that week as well as other hot news!!!!!
---
Check out SCOPE Panzer and Draco Ideas on:
---
Brad Hiscock, aka "Zerility", is a construction project manager and electrician by trade who was the owner of a 6-time award winning electrical company. His passion for board games has led him from playing hundreds of original titles to creating a design and publishing company of his own, Convivial Games. As an up and coming collaborator on many projects, he is always eager to try new games and meet new people.
Find him reviewing on the socials too!
&
All of Brad Hiscock, aka "Zerility"'s reviews can be found HERE