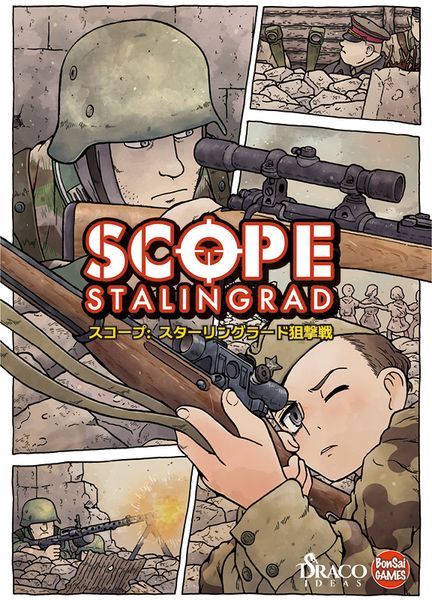 images in this blog post taken from boardgamegeek.com
Quick Look: SCOPE Stalingrad

---
Designer:  Juan A. Nácher
Artists: Matias Cazorla, Rasenjin Hayami
Publisher: Draco Ideas
Year Published: 2020
No. of Players: 2-4
Ages: 12+
Playing Time: 10-15 minutes
SCOPE is a 2 to 4 player game, set in the Battle of Stalingrad, where players take on the role of sniper teams on both sides. The objective of the game is to eliminate the enemy snipers or enemy troops for a total value of points depending on the scenario being played.
A fast and immersive game of 5-15 minutes per match, with various levels of difficulty and rules that are explained in two minutes on the clock. When you try it, you won't be able to stop playing it.
SCOPE is a game of strategy, cunning, and bluffing that will make you feel like a real sniper, searching and selecting your targets, shooting wisely and changing position so as not to be discovered and eliminated.
Disclaimer: The publisher provided the copy of SCOPE Stalingrad. The opinions expressed in the review are completely my own.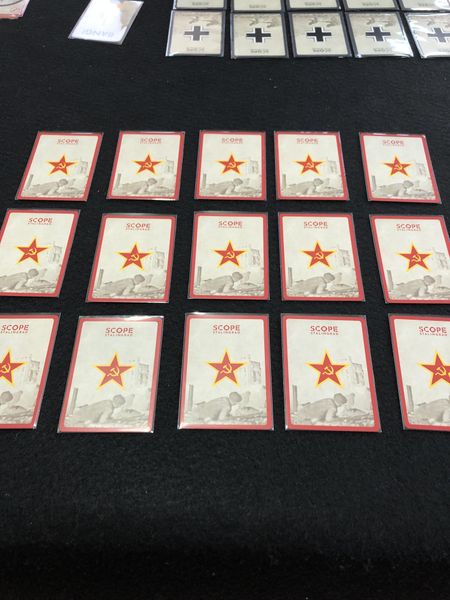 Review:

Overview:
First off, let me say, I have no idea why you would play this with four players. What drew me to the game in the first place is its 2-player nature. The idea of a one v one sniper showdown sounded cool. It looked to me like a game version of one of my favorite WWII movies, Enemy at the Gates, which depicts this exact battle. I remember seeing that movie in theaters a few times with my friends. And, it is currently on Paramount+, in case you haven't see it. Anyway, back to the game. Let's see if it makes me feel like I am in the movie.
Rules & Setup:
The rules and setup are quite simple for SCOPE Stalingrad. First, divide the cards between the red Russian deck and the black German deck. Next, you and your opponent will need to select which scenario you are going to play. Obviously, I would recommend the first one to start out. The rulebook has a list of scenarios and what cards are required as well as the winning condition. For the base game, the winning conditions are the first to six points in killed assets or eliminating your opponent's two snipers.
Once selected and the cards required are sorted out, each player sets up their front according to the rules. For the first scenario, it is three rows of four cards. Place your cards facedown (you are allowed to look at your own cards at any time) into the specified grid. Now you are ready to play.
Theme and Mechanics:
The theme and mechanics work very well with this game. SCOPE Stalingrad puts you in the middle of the cat and mouse game played by the snipers as they fought over the ruins of the city. When you shoot, giving your opponent a 25% chance at finding you on returning fire can get tense. Flipping a card to reveal what it is concealing can also be intense for the flipper. The mechanic of rearranging works well to move your sniper to a different vantage point, or at least put off the perception of doing so. The theme and mechanics marry well in SCOPE Stalingrad.
Gameplay:
The German side always goes first. On a turn, you have two options: Search or Move. On a Search, you pick one of your opponent's cards and flip it over to look at it. If it is a desirable target, you can choose to shoot. To shoot, you place your Shot Card (the one with a bullet and the word "BANG!" on it) at the intersection of any four of your cards. The only stipulation is, one of the four MUST be a sniper. The target is killed, and you take the card and collect the points. If you lose a card to being shot, then replace it with a facedown Empty Area card.
On a Move action, you made select any 2×2 group of cards in your front and rearrange them as you see fit. You might want to do this because your opponent has a decent idea of where your sniper is hiding. Or, you want to move some assets around to fool your opponent. Either reason, Move is a good option.
Once you take your action and resolve it, your opponent goes. This continues until either the snipers are killed, points are achieved, or whatever special win condition might exist in your selected scenario.
Artwork and Components:
60 cards. That is the game. Thirty for each side. They are standard cards. You might want to sleeve them as they are the only component of the game. But, I don't think that will necessary. The graphic design on the cards works well. It is language agnostic. The rules come in two languages as I mentioned earlier, but a simple translation could make this game accessible by anyone. That is a huge plus!
Matias Cazorla's artwork works well with the theme. Most of the artwork is in the iconography and the layouts.
The Good:
The game is simple to learn and teach. It is short to play. Its accessibility is a strength. The rulebook also includes a lot of different set up sizes and combinations of cards for a lot of different scenarios. This keeps the game fresh. Honestly, SCOPE Stalingrad is a solid take on the hidden movement theme that is enjoyable. The decision-making stands tall. Do I rearrange to protect my sniper? Do I take the shot because I "know" where a sniper is? If I am wrong, I could lose one of mine. But, if I am right, I would cripple my opponent.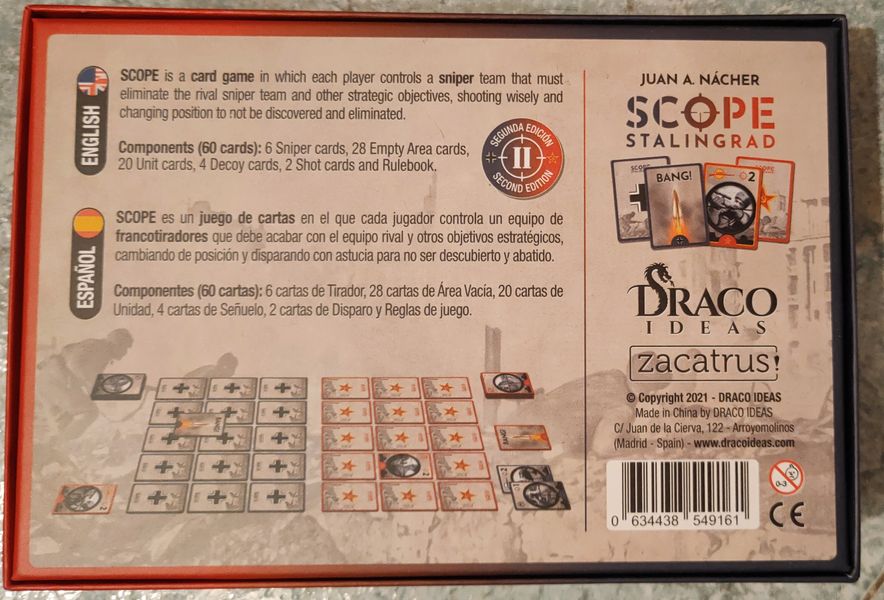 The Other:
One complaint is that the age is 12+. I do not know why. I played this with my 10yo. He took to it like a duck to water. I can see no reason that this game should not have an age of 10+ or even 8+. It really is a variant on Battleship.
My other complaint is a bit nitpicky. The rules are the height of the cards, but wider. So, it doesn't sit in the box well. This makes the box awkward. The box is oversized for this game. Slim the rules down (add a page or two if needed) and make it the size of a standard tuck box. I like no wasted space on my shelf.
Final Thoughts:
I loved SCOPE Stalingrad more than I thought I would. I literally just got it because I liked the idea. The multiple variations included in the book makes this game better than expected. When I play on the Russian side, I pretend I am Jude Law. When on the German side, I am Ed Harris. Here is a link to the great score by the late James Horner on YouTube. It should help set the mood for your confrontation. SCOPE Stalingrad costs around $15 (depending on the exchange rate), and would make a great addition to any 2-player game collection. I am also more intrigued at this point to dig into Draco Ideas other historical games.
Players Who Like:
Mano A Mano games, hidden movement, deduction, short card games, Enemy at the Gates

After reading Adam's review, if this sounds like a game for you at the time of this posting SCOPE Stalingrad is only 15.00 €. Check it out and get it HERE.
Did you get it based on our review? Please comment below letting us know!

Do you find that you're missing too many reviews as we drop them? Provide your name and email below and we'll keep you in the know of what we reviewed that week as well as other hot news!!!!!
---
Check out SCOPE Stalingrad and Draco Ideas on:
---
Adam Collins – Reviewer
Adam Collins plays many games. Too many games if you ask his wife. Not enough games if you ask his kids. Adam also designs games for his publishing company Bearded Board Games. He also runs a podcast, Eat Lunch and Board Game, where he reviews games on their merits include their ability to be played over a lunch hour. He also interviews other people involved in various facets of the board gaming community: designers, podcasters, authors, cross stitch designers. He grew up playing games, revived the passion ten years ago, and hasn't turned back.