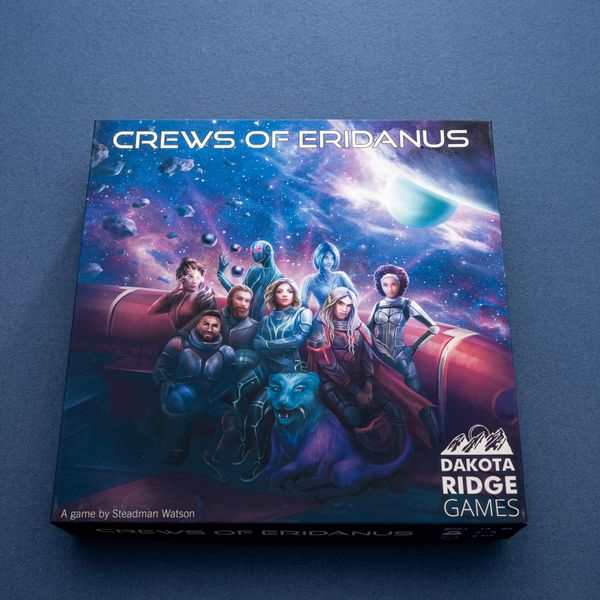 Crews of Eridanus
Publisher: Dakota Ridge Games
Designer: Steadman Watson
Number of Players: 1-6
Ages: 14+
Time: 90-180 minutes.
It has been 3 years since our star gate was destroyed by an unseen enemy.
The loss of the gate has cut off all interstellar trade routes and has been a heavy blow to the system's economy creating an environment rife with piracy.
With all our large warships stuck 40 light years away on the other side of the gate, pirates now control two of our eight space stations, and others menace the principal trade routes in our system.  Fortunately, the Esmar Defense Ministry just completed construction of several light corvettes to deal with the pirates.
Crews of Eridanus is set in an open world where you have been appointed as Captain of one of the corvettes to help get the economy and travel back to normal.
As a Captain, you'll need to recruit a crew.  And good crews don't come cheap. 
Here are a few ways you can earn credits:
Eventually, you will need to prepare for the reappearance of the mysterious enemy that destroyed the star gate. As you explore the system, you might make discoveries that could help in your preparations.
Are you ready to face the challenges in the Twin Star system?  Assemble the best crew and captain them to victory in Crews of Eridanus.
If you want to keep up with our progress, please join the mailing list.
To learn about gameplay, how to play, read reviews and the backstory and more, please visit our website.
 Crews of Eridanus will be
 live on KICKSTARTER beginning February 15th 2022
.
Want our most important news delivered to your inbox at least twice a week????? Just fill out the following and submit. It's that EASY!
Never Miss Everything Board Game posts again! Get them in your inbox: