Machi Koro (Updated Deal) – 37% Off!

From BGG:
"Welcome to the city of Machi Koro. You've just been elected Mayor. Congrats! Unfortunately the citizens have some pretty big demands: jobs, a theme park, a couple of cheese factories and maybe even a radio tower. A tough proposition since the city currently consists of a wheat field, a bakery and a single die.
Armed only with your trusty die and a dream, you must grow Machi Koro into the largest city in the region. You will need to collect income from developments, build public works, and steal from your neighbors' coffers. Just make sure they aren't doing the same to you!
Machi Koro is a fast-paced game for 2-4 players. Each player wants to develop the city on his own terms in order to complete all of the landmarks under construction faster than his rivals. On his turn, each player rolls one or two dice. If the sum of the dice rolled matches the number of a building that a player owns, he gets the effect of that building; in some cases opponents will also benefit from your die (just as you can benefit from theirs). Then, with money in hand a player can build a landmark or a new building, ideally adding to the wealth of his city on future turns. The first player to construct all of his landmarks wins!"
---
Star Munchkin Deluxe – 35% Off!

From BGG:
"The Munchkins are back – but now they're Mutants, Androids, and Cat People in space, grabbing Lasers, Vibroswords, and Nova Grenades and fighting Fanged Fuzzballs, Bionic Bimbos, and the Brain In A Jar. Star Munchkin is a complete game using the best-selling Munchkin rules (with a few new twists like Sidekicks), and it can be combined with any other Munchkin items."
---
Cthulhu Gloom – 36% Off!

From BGG:
"From Dunwich to Innsmouth, from the halls of Miskatonic University to the Charles Dexter Ward at Arkham Asylum, trouble is in the air. The stars are almost right, and terrors from beyond space and time are beginning to break through. When Cthulhu rises, we're all doomed – but whose downfall will be the most entertaining?
Cthulhu Gloom takes the game play of Atlas' Gloom and puts a Lovecraftian spin on it. Each player controls a group of protagonists, and your goal is to make them as miserable and insane as possible – preferably with them dying quickly while your opponents' heroes remain sane and (at a minimum) alive. In the publisher's description: "While your characters Gibber With Ghouls and Learn Loathsome Lore to earn negative points, you'll encourage your opponents to be Analyzed by Alienists and to Just Forget About the Fungus to pile on positive points. When one group finally falls prey to the interdimensional doom that awaits us all, the player whose characters have suffered the most wins.""
---
Helvetia Cup – 70% Off! Worth it just for the minis.

From BGG:
"Helvetia was created not only from diplomatic relations, but also out of war. There is no longer bloodshed amongst the people of Helvetia, though, as they now prefer to express their rivalry another way. They do it by way of a new sport: the Helvetia Cup.
HELVETIA Cup is a game of simulation football that blends tactical skill, strategy and luck and is set in a fantasy world, with each player acting as a coach in epic games and titanic championships. HELVETIA Cup has both a family version and a geek version."
---
Dungeon Lords: Happy Anniversary – 52% Off!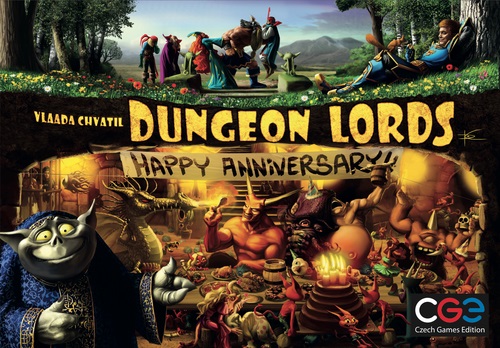 From BGG:
"Dungeon Lords: Happy Anniversary includes the Dungeon Lords base game, the Festival Season expansion, stickers for food tokens, metal coins, a new "Dungeon Set-up" mini-expansion, and other items.
In Dungeon Lords, you are an evil dungeon lord who is trying to build the best dungeon out there. You hire monsters, build rooms, buy traps and defeat the do-gooders who wish to bring you down. Each turn, players use a hand of cards to choose where to place their worker imps. Actions vary from mining gold, hiring monsters, buying traps etc. Each action has three spots available – with each spot having different effects (e.g., mining gold lets you mine more gold in each spot). When using the cards, two cards will become locked and will not be able to be used next turn.
The entire game lasts two "game years", and each year consists of four seasons (a.k.a. turns). At the start of each season, players see the heroes and events to come in the following season, allowing them to prepare. At the end of each season after the first, heroes are allocated to each player according to the players' level of evilness. Heroes range from mighty heroes to sneaky thieves. Each hero has its own power for which the player needs to prepare for. At the end of each year, the heroes travel into the dungeons to fight.
Scoring in the game is based upon what you have built, the monsters you have hired and the heroes you have captured.
The Festival Season expansion adds a fifth season to the year: festival season. More time to build your dungeon, but also more time for adventurers to gather a larger party. There are new monsters, rooms, and traps to prepare your dungeon for the battle, but also new nasty spells for the adventurers and sneaky bards who encourage them to perform so-called "heroic" deeds – not to mention two paladins for each year, now ready to punish up to two evil players.
Would you like to push other players toward evil instead of moving yourself toward good when visiting the city? What about making an investment instead of traditional gold digging? Or what about repairing conquered tunnels or rooms instead of digging new ones? Only eight actions are still available to you, but each season one of those actions is replaced by an alternate set of spaces that offer new and intriguing options. And did we mention that it has recently become fashionable for dungeon lords to have their own personal pets?"
---
Fairy Tale Gloom – 50% Off!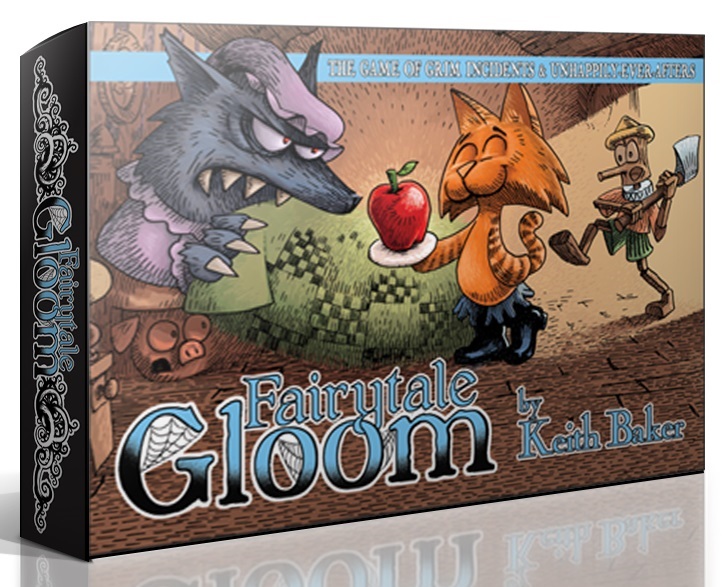 From BGG:
"In the Gloom card game, you assume control of the fate of an eccentric family of misfits and misanthropes. The goal of the game is sad, but simple: You want your characters to suffer the greatest tragedies possible before passing on to the well-deserved respite of death.
Fairytale Gloom spreads that misery and suffering to the beloved, classic stories of your youth, like a magical, flying godmother ready to perturb you with peas, foil you with fairies, and surprise you with spiders."
---
Hordes: Legion – Extreme Carnivean – 50% Off!

From Site:
"The Privateer Press Extreme models embody the full-throttle attitude of Warmachine and Hordes cranked up another notch. These models represent the ultimate creative vision for the Iron Kingdoms' most iconic warjacks and warbeasts – taken to the extreme! Designed for the display case, these models are also legal for use in Warmachine and Hordes games. This stunning model rendition of the Carnivean displays the ferocious might of Everblight's dragonspawn and will take a place of pride among your Legion forces."
---
Nightfall: Blood Country – 63% Off!

From BGG:
"Cities have fallen, cities have stood, but outside of those protections, humans must face the creatures of darkness on their own terms. In the lawless countryside of Nightfall, the beast within can wreak havoc like never before.
Nightfall: Blood Country, an all-new expansion for the deck-building game Nightfall, features new vampires, werewolves, hunters and ghouls. Blood Country also introduces innovative abilities for your wounds, creating new effects beyond those just on the card!
Each card has a main color and two linking colors. If you can match the main color of a card to one of the linking colors of the previous card, you can chain those cards together. Once a chain is started, players all get an opportunity to link additional cards onto the chain during that turn. Cards in the chain resolve in reverse order: first in, last out. Instant effects fire off as cards come off the chain, doing damage to your opponents or bringing characters into play to defend you and attack your opponents.
The object of Nightfall is to put wounds into your opponents' decks and end the game with the fewest wounds in your deck. But beware: The more wounds a person has, the more enraged they become and the faster their deck works, meaning more cards and bigger chains will come your way!
Blood Country is an expansion and requires Nightfall or Nightfall: Martial Law in order to play."
---
Give it to the King – 38% Off!

From BGG:
"Give It to the King! is a game for 2-4 players in which you become a royal messenger who's racing against the other players to be the first to deliver messages to the King at the end of a long hallway.
When it's your turn, you can move any player's messenger, and so long as you don't move yourself, you maintain control of the die and the board. As you press on, however, chances are that you will run into trouble and have to pass the die. Will you use the power of the message you carry to keep going, or should you use it to stop someone else from reaching the King before you? Delivering messages unused pays you the most gold, so it will always be a tough decision either way. If you are ready to become the Captain of the messengers and win the most gold, then grab a scroll and get going!"
---
Urban Panic – 43% Off!

From BGG:
"The world of investments awaits, but be aware, the task is very responsible. The player's goal is to build a city with the help of five loyal helpers. Architect, mayor, planner, engineer and a spy will do all they can to create new places of public use so that living in your metropolis is more comfortable than anywhere else.
In the centre of the Urban Panic play area is a main board with open city tiles placed on it. Next to the board lies a face-down pile with the remaining tiles. Each player receives a player board, and on this board you will build a city. In your turn, you have to perform actions of the architect which will enable you to take one tile from the main board. In the current turn, you can perform two more actions. You may exchange all of the revealed tiles with those from the pile, place a tile on your board, or change the places of two tiles on your board. Each building added to the city results in its development: number of residents, number of workplaces, ecology, revenue or the satisfaction of residents either increases or decreases. The most important thing is to fill the board with city tiles so that each tile is connected to the center of the board. You cannot forget to fulfill the needs of the residents. The winner is the player who not only builds and develops the city fastest, but avoids unemployment and takes care of the residents' needs."
---
PRE-ORDER Magic The Gathering Arena of the Planeswalkers Battle for Zendikar Board Game Expansion Pack

From BGG:
"Magic: The Gathering – Arena of the Planeswalkers – Battle for Zendikar takes place on the plane of Zendikar and includes squad figures and spell cards for two new planeswalkers: Ob Nixilis, Demon of Spite, and Kiora, the Rising Tide."