Splendor – $35.00 with FREE Shipping!
From BGG:
"Splendor is a game of chip-collecting and card development. Players are merchants of the Renaissance trying to buy gem mines, means of transportation, shops—all in order to acquire the most prestige points. If you're wealthy enough, you might even receive a visit from a noble at some point, which of course will further increase your prestige.
On your turn, you may (1) collect chips (gems), or (2) buy and build a card, or (3) reserve one card. If you collect chips, you take either three different kinds of chips or two chips of the same kind. If you buy a card, you pay its price in chips and add it to your playing area. To reserve a card—in order to make sure you get it, or, why not, your opponents don't get it—you place it in front of you face down for later building; this costs you a round, but you also get gold in the form of a joker chip, which you can use as any gem.
All of the cards you buy increase your wealth as they give you a permanent gem bonus for later buys; some of the cards also give you prestige points. In order to win the game, you must reach 15 prestige points before your opponents do."
---
Road Rally USA – 57% Off!

From BGG:
""Finishing races is important, but racing is more important." – Dale Earnhardt
Do you feel the need for speed? If so, Road Rally USA has you covered! Simply pressing the accelerator is not enough, as you must be efficient, managing your fuel and coming in first at your optimal checkpoints to maximize your score. Thus, you need to race and maneuver to be in the proper position when scoring your checkpoints.
Try as you might, it's impossible to maintain the lead throughout the race – and truth be told, while being first at the end of the race helps, placing first at your scoring locations is even more important. Every turn someone could trigger a scoring point. Where will you be as you and your opponents control which checkpoints will score and which get bypassed?
Each racer plays from identical draw decks, playing multiple cards of the same color to provide a boost of speed. Beware as you may reshuffle your deck only at gas stations along the way, and when your hand or draw pile are depleted, you are in for trouble. Race smart and bring home the gold!"
---
Toledo – 54% Off!

From BGG:
"In Toledo players try to forge magnificent swords and bring them into the fortress of the city, the "Alcazar".
Each player can send his five helpers on the map and on to the roads of Toledo, in order to acquire steel and jewels from dealers. Thus they get swords manufactured at the most famous armorer in the city. Afterwards those swords are to be delivered to Alcazar.
In addition there are two taverns (at which one "refuels" cards) as well as a place where the works of art of the resident painter, El Greco, are available.
There is a lot to discover in Toledo."
---
Whitewater – 44% Off!

From BGG:
"Danger and excitement lurk around every bend of the river in Whitewater. Race down a deadly river, carefully navigating your raft through the obstacles, while trying to keep your paddles and crew inside the raft.
In Whitewater each player directs the actions of four courageous rafters. Each raft in the race contains four crew, with two crew from you and two from another player. Players control the crew within a raft, but also may use Energy cards to additionally help one raft or the other. Dice represent the effects of hazards you encounter, and even your best-laid plans can be spoiled by another raft pushing you a direction you don't want to go. Earn points for getting your rafts and passengers home safely, while navigating through treacherous waters containing rocks, driftwood and the dreaded whirlpool!"
---
Chain Letters – 47% Off!

From BGG:
"Chain Letters is a game similar to Barrel of Monkeys that's played with a number of letter tokens. Each token has hooks that can be used to link them to the other tokens.
The letters are placed in a pile on the table. The players simultaneously attempt to create words by making chains of the letters, without dropping the chain or linking a letter upside down. The pile cannot be shuffled, so the words have to be made using the letters that are visible.
The game continues until no more words can be made; the player who has collected the most letters wins."
---
Little Devils – 60% Off!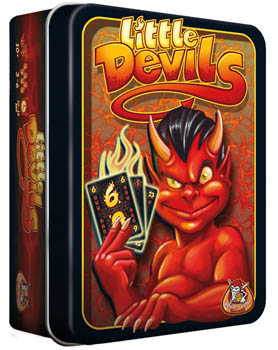 From BGG:
"Everybody is fond of teasing and challenging each other from time to time. In this game you try to saddle opposing players with negative cards, and every little devil scores a penalty point. But take care: You will not escape the "diabolical" plans of your opponents either. Little Devils is a devilishly fun trick-taking game you keep on playing…"
---
Code of Nine – 50% Off!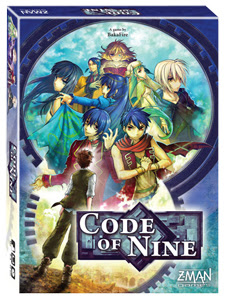 From BGG:
"The world is in ruin. Humankind is but a distant memory, and only now have you awoken. You are an automaton in possession of several fragments that once held the will of the human race. The other fragments lie in the hands of your fellow automatons. You must investigate and piece together these fragments so that you alone may fulfill the final will of humanity.
Code of Nine — first released as Old World And Code Of Nine or OWACON — is a card-based board game in which the goal is to puzzle together long-gone memories. Players battle for victory points (VPs), but what will generate VPs is decided by eight so-called memory cards that are dealt at the start of the game, with each player getting to look at only two of these.
Each round, players choose actions that gain certain items such as coins, books, statues or legacies, or perhaps to peek at the other players' memory cards.
After five rounds, the score is calculated, and whoever has the most points wins."
---
Infinity: Ariadna – USAriadna Army Pack – 45% Off!

---
Spot It! Halloween – 42% Off!

From BGG:
"Spot it! is a simple pattern recognition game in which players try to find an image shown on two cards.
Each card in Spot it! features eight different symbols, with the symbols varying in size from one card to the next. Any two cards have exactly one symbol in common. For the basic Spot it! game, reveal one card, then another. Whoever spots the symbol in common on both cards claims the first card, then another card is revealed for players to search, and so on. Whoever has collected the most cards when the 55-card deck runs out wins!
Rules for different games – each an observation game with a speed element – are included with Spot it!, with the first player to find a match either gaining or getting rid of a card. Multiple versions of Spot it! have been published, with the game's theme ranging from Halloween to hockey to baseball to San Francisco."