Eruption (Updated Deal) – 45% Off!

Description from BGG:
"The inhabitants of the villages surrounding a dormant volcano were happily living in peace until — KABOOM! — the old volcano sprung back to life, unleashing rivers of molten lava in every direction and blasting volcanic rock into the sky. The villages, now faced with destruction, must do whatever they can to protect their homes from the incoming surge of lava.
Your village is about to burn up — can you take the heat?
Eruption is a competitive survival game in which each player struggles to save his or her own village from destruction caused by an onslaught of lava from an erupting volcano. As lava enters a village, its temperature increases until it has burned up completely. Players can protect their own villages by placing lava tiles defensively and strategically building walls of various materials to hold back the lava. They are also rewarded with action cards for directing lava to other villages. Action cards allow players to rotate, replace, or remove the hexagonal lava tiles as well as cool down and fortify their own villages. Once the volcano has fully unleashed its fury, the player whose village is at the lowest temperature wins."
---
The Dresden Files – 36% Off!

Description from Amazon:
"The world is getting weirder. Darker every single day. Things are spinning around faster and faster, and threatening to go completely awry. Falcons and falconers. The center cannot hold. Enter the world of best-selling author Jim Butcher's Dresden Files, where the creatures of the NeverNever lurk around every corner, prowl through every shadow. Only the determination, faith, and hope of mortal kind is able to stand against the rising darkness — be they supernatural cops, wizards, werewolves, changelings, or just plain ordinary joes."
---
Qwirkle – 29% Off!

Description from BGG:
"The abstract game of Qwirkle consists of 108 wooden blocks with six different shapes in six different colors. There is no board, players simply use an available flat surface.
Players begin the game with six blocks. The start player places blocks of a single matching attribute (color or shape but not both) on the table. Thereafter, a player adds blocks adjacent to at least one previously played block. The blocks must all be played in a line and match, without duplicates, either the color or shape of the previous block.
Players score one point for each block played plus all blocks adjacent. It is possible for a block to score in more than one direction. If a player completes a line containing all six shapes or colors, an additional six points are scored. The player then refills his hand to six blocks.
The game ends when the draw bag is depleted and one player plays all of his remaining blocks, earning a six point bonus. The player with the high score wins."
---
Hive Carbon – 29% Off!

Description from BGG:
"Hive Carbon is a new edition of Yianni's Hive that plays the same as that classic two-player game but with stylin' black-on-white and white-on-black pieces instead of the multicolor bugs running around in the current edition. What's more Hive Carbon will include the mosquito piece that was previously sold separately as well as a new ladybug piece the details of which Yianni has yet to describe. The ladybug will also be available in the iPhone version (iTunes link) of the game but Yianni hasn't announced when that update will take place."
---
Briefcase – 57% Off!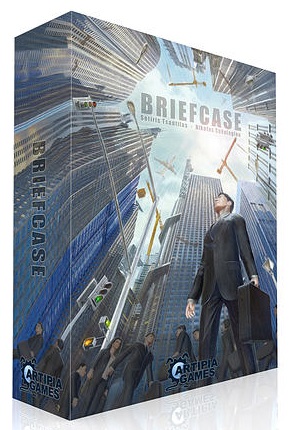 Description from BGG:
"Briefcase is a deck-building and resource management boardgame.
In Briefcase, players build their own business empires by acquiring and activating various companies. Each company, once activated, provides the player with some benefits (which are called decisions cards) and a special ability for the rest of the game.
Players start with identical decks of decision cards. Each time one player activates a company, he/she adds to his deck more decision cards. Decision cards give the players various possible actions (like buy/activate/hire/obstacles). The most important is the "buy" action, with which players can either buy a building or a resource from the market."
---
Shadows of Brimstone: Caverns of Cynder Expansion – 50% Off!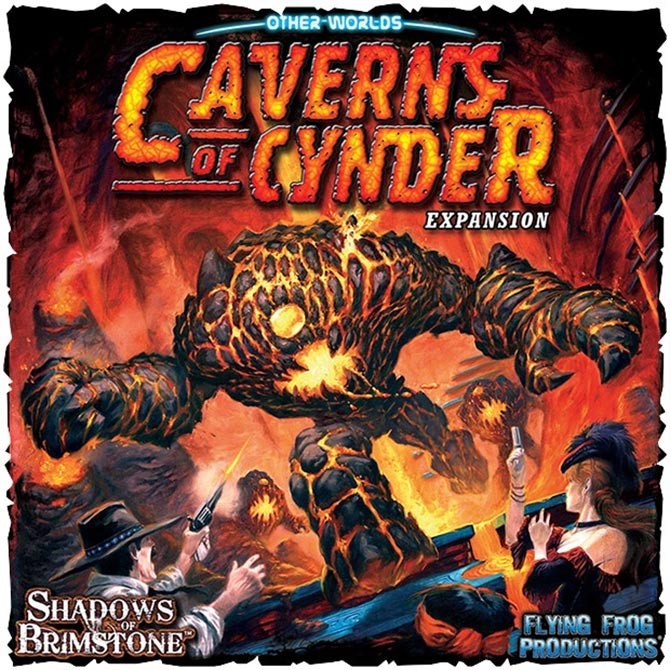 Description from BGG:
"The Caverns of Cynder is a hostile Alien World, deep underground and overflowing with lakes of molten magma! There is some alien architecture such as pathways and ductwork to funnel the lava in practical and ceremonial ways. In the Caverns, Dark Stone is melted into the magma itself and can be found in liquid form! This has led some industrious explorers, both human and otherwise, to set up mining equipment in an attempt to siphon it out of the rock itself. Of course the Heroes must always beware of the foul creatures lurking the corridors as well as those that will rise up out of the molten rock itself to attack — not to mention the constant threat of eruptions and rising lava pools at your feet!
Shadows of Brimstone: Caverns of Cynder Expansion offers a new Otherworld for players to explore, with a set of 18 new double-sided map tiles. There are new Encounter cards, artifacts, Otherworld threats, and map cards, as well as three of the new lava men Enemy.
Cynder Tiles include a mechanism in which you can take damage if you pass over certain fiery spaces. If you have a high Agility you get to roll two dice, so swift and nimble characters are less likely to burn. Cynder also has mechanisms in which Clothing items make you susceptible to heat exhaustion and burning, so there's some interesting decisions to be made about how many items to keep equipped from turn to turn."
---
City Hall – 50% Off!

Description from BGG:
"City Hall sees players competing to become Mayor of New York City. They do this by attempting to be the most successful at both bringing people into the city as well as campaigning for the citizens' approval. Whoever best balances these two goals will win the election.
There are seven offices within City Hall. These offices deal with a different aspect of building the city or campaigning, such as the Tax Assessor, Surveyor, or Zoning Board. In a round, each player will get to activate one of these offices. However, just because you activate an office doesn't mean you will get to use it. The other players will have an opportunity to use their influence to steal control of the office away from you. Keeping it will require countering with your own influence. However, you can instead let another player control that office this round and add their influence to your own, giving you a leg up on controlling things later on.
In using these offices, players will buy land and build properties to create attractive neighborhoods that will bring the most people into the city – or they might place a factory next to an opponent's housing complex to drive people out. They will also tax their constituents to raise funds (with the option of sacrificing popularity to tax at higher rates), buy and sell influence to the Lobbyist, and campaign to increase their approval level.
At the end of the game, the citizens of the city will vote based on which player brought them in and that player's approval level. Special interest groups will also collect votes for players based on certain goals, such as Wall Street backing the player with the most money. Whichever player has the most votes on election day will become Mayor of New York and appoint his or her opponents to the Sanitation Department."
---
Halloween Bundle 2 – $69.00!
Dead of Winter, New Salem, and Welcome to the Dungeon.