Tiny Epic Defenders – 30% Off!
Description from BGG:
"In Tiny Epic Defenders, players must select their class and work together to defend the foreboding horde and slay the Epic Foe. Will you take on the role of the Barbarian, the Sorcerer, the Cleric or the Warlord? Each class has a unique player power that you will need to utilize. In this fast-paced game, players will scramble between various regions outside their Capital City fighting off enemy hordes! Each region offers unique properties that players must calculate into their strategy If your group is fortunate enough to defeat the wave of monsters, you may live long enough to face the Epic Foe! Which Epic foe will it be? Will you be prepared!? Does your group have what it takes to survive? Will you have the synergy to be crowned the Tiny Epic Defenders!?"
---
Dos Rios: Valley of Two Rivers – 69% Off!
Description from BGG:
"Players move their workers around the board (which is composed of variable groups of hexes) building houses along the banks of two rivers. Each turn certain hexes along the river pay out, either in money (which you use to build houses) or lumber (used to make dams). The first player to construct all five of their buildings (four houses and one hacienda) or a hacienda and three houses that are all on a riverbank, wins. Players build dams to change the flow of the rivers."
---
New England Railways – 68% Off!
Description from BGG:
"This, the second game in the Early Railways Series following Lancashire Railways is set in New England. The game's core mechanics include bidding for the right to build track and then shipping goods over that track to gain income."
---
City Council – 63% Off!
Description from BGG:
"In City Council each player takes the role of a council member of a newly founded city. The government will select the members of the city council for the first few years until the city rises and flourishes, by which time the most popular member will receive the position of Mayor.
In order to build the city, you and the other councilmen must maintain a low level of pollution, fight crime, create jobs, and sustain an adequate city budget. If you and the others don't keep up the good work, the city project might not succeed, the government will take over, and all players will lose.
As a member of the council, you must also strive to gain the favor of the different political groups who rule the streets of your city. As the game progresses and the city grows larger, more and more political interest groups will try to impose their will on the city by knocking on your office door and asking you for small "favors" in which you will have to act on their behalf. In return, they'll offer you their support and you'll receive victory points for your personal cause, possibly allowing you to become the city's first Mayor."
---
Steam – 41% Off!
Description from BGG:
"In Steam you build railroads and deliver goods along an ever changing network of tracks and stations. You build the tracks, upgrade towns, improve your train, and grab the right goods to make the longest, most profitable deliveries. Score your deliveries and add to your income or victory points, balancing your need to invest against your quest to win the game.
Steam contains a beautiful, double-sided game board. The map on each side depicts terrain, towns, and cities at the start of the railway age. The map of the northeastern USA and neighboring Canada is ideal for 3 or 4 players. Use the map of Europe's lower Rhine and Ruhr region when playing a 4 or 5 player game. You can play Steam on any number of current and future variant and expansion maps, so we include pieces for 6 players.
The game plays very similarly to Age of Steam but with modifications to some of its mechanics and artwork. Tracks for income, train level, etc. are all printed on the board around the map such that alternate maps can be overlaid on the board and the necessary tracks will still be able to be used."
---
Mage Wars Arena: Battlegrounds – Domination – 50% Off!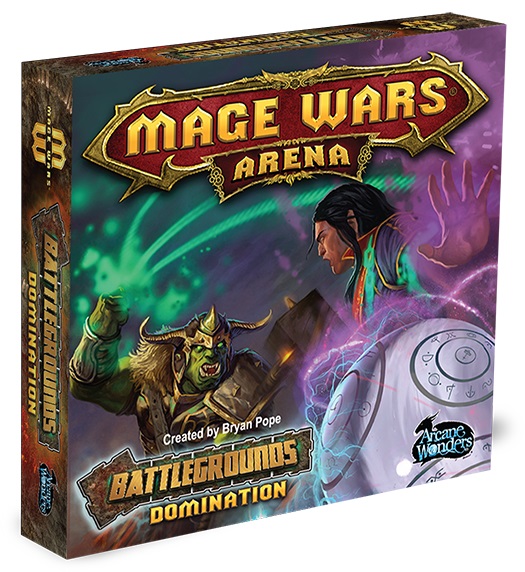 Description from BGG:
"Build the Arena of your dreams and battle against enemies for control of the V'Tar orbs with an all new rule set for the award-winning Mage Wars Arena! Battlegrounds Domination is a new set of expansions for Mage Wars Arena that introduce new rules to play by and incorporate the use of custom puzzle-cut tiles for players to build their own Arena boards to play on! And yes, as you can see, there are images on the tiles that are accompanied by optional rules that introduce terrain effects as well!
The first Battlegrounds expansion, Domination, introduces Domination Mode, where players will vie for control of powerful V'Tar orbs that grant new powers and offer a new option to win, by gaining points through maintaining control of these powerful devices. Additionally, there are 20 customized tiles for players to use in creating their own, or suggested, Arenas to play in. Finally, there are also 116 cards including new spells for use in traditional Mage Wars Arena play and the new Domination mode, introduced in this expansions' rules. As an added bonus, Battlegrounds Domination introduces two new promo cards, available only in the first printing of the set: The Ankh of Asyra and Blur!"
---
BattleCON: Light & Shadow Expansion – 52% Off!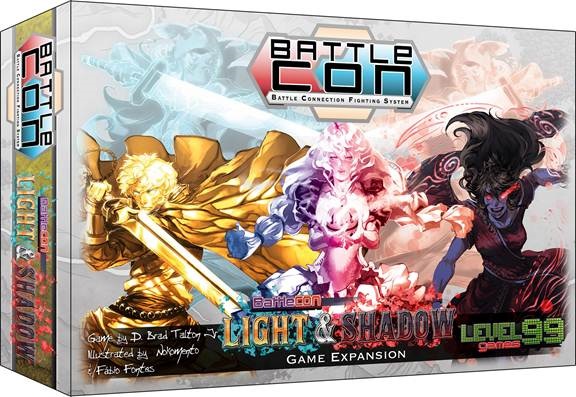 Description from BGG:
"Light and Shadow is a small-box expansion to BattleCON (about 120 cards or so) that includes higher-powered versions of all Fighters and the cards necessary to play them. These can be used for 2v1 or 3v1 games, or you can use this expansion to duel two of these super-fighters against each other one-on-one.
The box will contain powered-up Unique Ability cards for each fighter in BattleCON: War of Indines and BattleCON: Devastation of Indines, as well as four new sets of bases: 2 sets of "EX" bases (used with EX ability cards, making a fighter roughly twice as strong as a normal character) and 2 sets of "Almighty" bases (used with Almighty ability cards, making a fighter roughly three times as strong as normal)."
---
Corto – 64% Off!
Description from BGG:
"Enter the magical world of adventure of Corto Maltese, the hero from the fertile imagination of Hugo Pratt. Choose your adventures, then live through them as the game unfolds. Aided by Corto and resisting Rasputin's attempts to thwart your plans, recruit your own bands of adventurers and get your hands on gold at the end of the story!
Corto is a card-based adventure game that mixes tactics and luck. To set up the game, choose four of the six quests, then place the appropriate quest boards next to one another on the table; each quest (attack the train of Russian gold, research the four aces of whale bones, meet the leopard-men, etc.) has its own deck of character and object cards that's shuffled and placed on the left side of the board. Reveal the top character from each deck, take turns placing one of your tokens on any character, then draw four cards from any combination of decks for your starting hand.
On a turn, you can either discard any number of cards and fill your hand to four cards or you can play 1-4 cards. If you play a character card, place it on an empty space on the quest board of the same color, making sure that it's adjacent to at least one other character. Place a token on the card, then either add a token to or remove an opponent's token from an adjacent character depending on the character's border color (denoting a friend of Corto or associate of Rasputin). You can also play objects on the character to affect adjacent cards. Some characters and objects have long range effects that hit any character in the same column or row. Hit a character that has no tokens, and you remove it from the board, counting it as 1 gold at the end of the game. If you played cards, end your turn by drawing two cards.
Players can also move Corto and Rasputin directly, using them to block spaces on the quest board, claim gold immediately, or eliminate characters.
In addition to having its own mix of characters, objects and advantages, each quest has a different treasure waiting for players to nab. For "The Wreck of the Fortune Royale", you need to be the first to claim the aces in order to claim all the treasure for yourself; for "Admiral Kolchak's Bullion Train", if you attack the train — which moves across the quest boards as players lay down cards — you claim one of the train car tokens, which might have gold on it; for "On the Track of the Leopard Men", whoever has a majority of tokens on certain characters at the end of the game gains control of markers that might enhance their network of characters.
When two quests are fully occupied or the players run out of cards, the game ends. In addition to scoring for the gold and treasures they've collected during the game, each player scores 2 gold per character in the largest group of characters he controls and 1 gold per character for smaller groups. Whoever ends up with the most gold wins!"
---
Halloween Bundle 1 – $75.00!
Mysterium; Run, Fight, or Die! and Cthulhu Realms