Attila – 37% Off!
Description from BGG:
"Attila the Hun was an infamous barbarian warlord whose army of nomadic horsemen terrorized the people of Europe and Western Asia for nearly twenty years.
Attila, on the other hand, is a light and fast-paced game in which one player controls Attila and two of his warriors while the other player controls three Roman soldiers, one of them being Roman general Flavius Aetius.
To set up, players create a playing area from the four game board tiles (such as a 4×5 rectangle), then place their figures on empty spaces. On a turn, you move one of your tokens in a knight's move (as in chess); you can traverse occupied squares and empty space as long as you land on a free space. Then you place a scorched earth tile on any empty space. Players alternate turns, and whoever first can't move a token loses the game!"
---
Aztack – 34% Off!
Description from BGG:
"Journey to the age of the legendary Aztecs and build a temple to win the favor of the high priest.
In Aztack, players stack stones according to their patterns, as each stone must match the two stones underneath by color and/or glyph. Look for opportunities to block your opponent from stacking their stones so that you can rise to the top. Whoever has the fewest stones remaining at the end of the game wins."
---
Super Munchkin – 32% Off!
Description from BGG:
"Fly through the city. Smash the villains. Backstab your teammates and grab their gadgets.
Munchkin has parodied the classic dungeon, the kung-fu warrior, the space epic, and the creatures of the night. Now, it's the superheroes' turn!
Be a Mutant, an Exotic, a Mystic, or a Techno. The higher your Level, the more Powers you can have. Battle dastardly masterminds, devastating monsters, and invading aliens from the next dimension – from the wimpy Triplicate Twit all the way up to Big Ol' Planet Eater Guy himself – and TAKE THEIR STUFF! With the Aura Helmet, the Telezapinator, and the (jet-powered) Pogo Stick, no foe can stand before you.
Super Munchkin is a stand-alone game, which (of course) can be combined with other Munchkin games. Designed by Steve Jackson (I) and illustrated by John Kovalic, this one is destined to RULE THE WORLD! Mwahahaha!"
---
Boss Monster – 27% Off! (lowest price on Amazon)
Description from BGG:
"Inspired by a love of classic video games, Boss Monster: The Dungeon Building Card Game pits 2-4 players in a competition to build the ultimate side-scrolling dungeon. Players compete to lure and destroy hapless adventurers, racing to outbid one another to see who can build the most enticing, treasure-filled dungeon. The goal of Boss Monster is to be the first Boss to amass ten Souls, which are gained when a Hero is lured and defeated — but a player can lose if his Boss takes five Wounds from Heroes who survive his dungeon.
Playing Boss Monster requires you to juggle two competing priorities: the need to lure Heroes at a faster rate than your opponents, and the need to kill those Heroes before they reach your Boss. Players can build one room per turn, each with its own damage and treasure value. More attractive rooms tend to deal less damage, so a Boss who is too greedy can become inundated with deadly Heroes.
Players interact with each other by building rooms and playing Spells. Because different Heroes seek different treasure types, and rooms are built simultaneously (played face down, then revealed), this means that every "build phase" is a bidding war. Spells are instant-speed effects that can give players advantages or disrupt opponents."
---
Game of Thrones: Westeros Intrigue – 60% Off!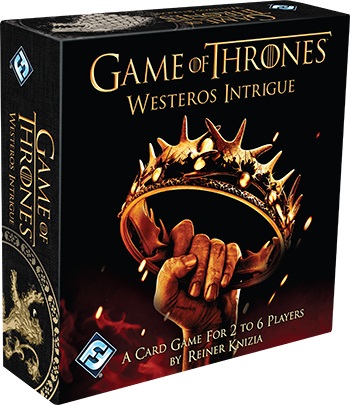 Description from BGG:
"Game of Thrones: Westeros Intrigue is a fast-paced game of cards and intrigue at court, created by renowned game designer Reiner Knizia. Every game is played over a series of rounds, as you and your opponents play character cards in an attempt to claim the Iron Throne for yourselves.
In each round, you pursue your own plans and seek to foil your opponents by playing character cards. Each turn, you will play a character card from your hand, adding to the court at King's Landing. You can advance your own prospects by playing your character cards cleverly, but certain rules govern exactly where you can place your character cards.
The first character cards must be played in a single row, forming the bottom row of the court. Once there are two cards in a row, you may play a card in a new row above them. The card that you play in the new row, however, must match the House of one of the two cards below it. In Game of Thrones: Westeros Intrigue, character cards are divided between House Stark, House Lannister, House Baratheon, and House Targaryen, and each player may have character cards from any of these Houses in his hand.
The court develops as you and your opponents play cards, but a player will eventually discover that he can no longer legally play a character card. Once this occurs, that player is eliminated and the round continues. A round ends when no one can play another character card, and whoever played the last character card wins the round. In Game of Thrones: Westeros Intrigue, you will play rounds equal to the number of players.
If you win a round of Game of Thrones: Westeros Intrigue, you reap the rewards by drawing an Iron Throne card, which cancels a number of your penalty points. Your opponents, on the other hand, must take penalty points equal to the number of character cards that they have left in their hand. Over the course of the game, players gain penalty points from having character cards at the end of the round, and reduce their penalty points by winning a round and drawing an Iron Throne card. At the end of the game, the player with the least penalty points wins!"
---
Aquasphere (CSI) – 62% Off!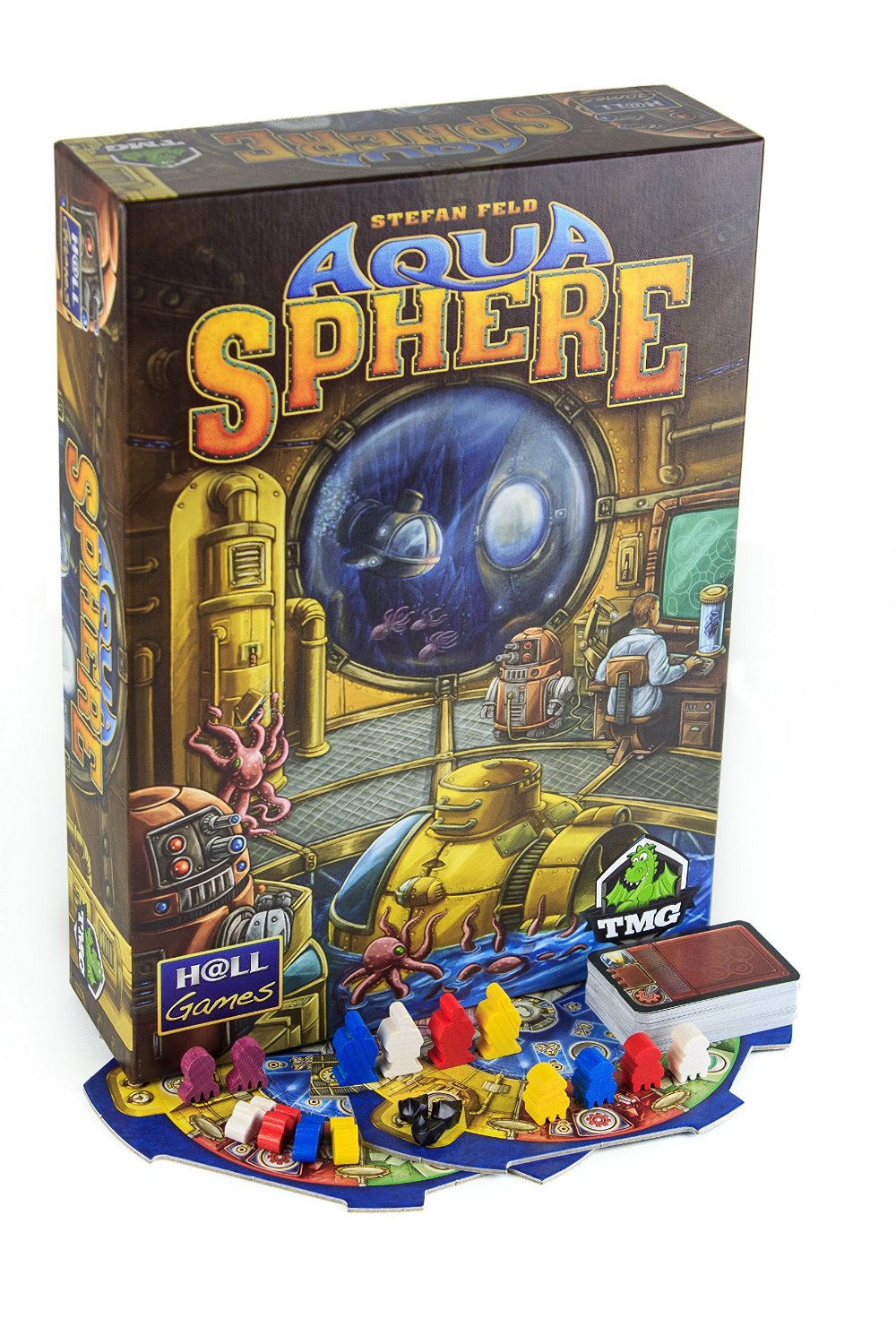 Description from BGG:
"News from the depths! The AquaSphere is a research facility stationed deep below the ocean's surface, and your skilled team — consisting of an engineer, a scientist, reprogrammable bots and exploratory submarines — is trying to gather as much data as possible.
The game board in AquaSphere has two main areas: A research station comprised of six sectors in which your scientist conducts experiments and a headquarters where your engineer supervises preparation of the bots. During each of the four game rounds, you take several turns, and on each turn you either:
Use your engineer in the headquarters to program a bot; each round you can choose from three of the seven actions.
Have your scientist bring a bot to a sector to perform an action.
Through actions such as improving your lab, sending out submarines, collecting crystals, and examining octopuses, you expand the abilities of your team or gather knowledge points, which are necessary to win. Additional challenges result from the limited size of your lab, which is your personal stock; you can increase the size of your lab, which makes life easier, but this costs valuable time.
AquaSphere is a challenging game of strategy and tactics with different paths to victory that requires planning in advance as well as skillful use of short-term opportunities."
---
Goblins: Epic Death – 52% Off!
Description from BGG:
"The new Goblin chiefs are ready to sound the charge and assault the castle! This time, the fortress is defended by a moat full of muddy water, but our fearless heroes did not come unprepared! Among the Goblin warriors are lifeguards, rafts, divers, fishermen, and even a pedal-boat – and they will all be needed to face the hazards (as well as the monsters!) hidden under the waters defending the castle! There are plenty of heroes of every kind, but this does not assure victory, especially when a fray erupts among the Goblins in the middle of the battlefield! But at the very end, there will be just one cry: Goooooobliiiiiiins!!!
Coming from the unleashed minds of 4G, Goblins: Epic Death, a fast-paced "card 'n' luck" game, is a new chapter in the saga of our green-skinned little friends. Victory is at hand, and the castle is ready for capture: Both are just an "epic death" away from you! So toss your Goblins, cross your fingers, and pray they all die. That way, victory will be yours!"
---
Smash Up: Big Geeky Box – 44% Off!
Description from BGG:
"Smash Up: The Big Geeky Box is a storage case for Smash Up cards that also contains a single faction deck for the game: "The Geeks", based on the characters and shows on the online Geek and Sundry channel, including TableTop."