Tiny Epic Defenders – 30% Off!

Description from BGG:
"In Tiny Epic Defenders, players must select their class and work together to defend the foreboding horde and slay the Epic Foe. Will you take on the role of the Barbarian, the Sorcerer, the Cleric or the Warlord? Each class has a unique player power that you will need to utilize. In this fast-paced game, players will scramble between various regions outside their Capital City fighting off enemy hordes! Each region offers unique properties that players must calculate into their strategy If your group is fortunate enough to defeat the wave of monsters, you may live long enough to face the Epic Foe! Which Epic foe will it be? Will you be prepared!? Does your group have what it takes to survive? Will you have the synergy to be crowned the Tiny Epic Defenders!?"
---
Illusio – 48% Off!

Description from BGG:
"1896: As the pioneers of magic compete against each other to amaze the public, the most spectacular magic show of all times will soon happen and YOU want to win it! To achieve that, you'll portray one of the ten magicians in competition and challenge your competitors with prestigious tricks.
Illusio is a card game about mentalism, close-up tricks, illusions and other examples of magic at the end of the 19th century when the magic arts held as much science as mystery. Which one of the great magicians trying to become Master of Illusion are you going to be? Savano the splendid one who controls the animals? The astonishing Shaozu who controls matter? Or the hypnotic Miss Dominated who subjugates the crowd?"
---
Snowdonia – 38% Off!

Description from BGG:
"The peaks of Snowdonia rise before you, encased in mist, their summits barely visible. The highest is Snowdon (Wyddfa) herself at 1,085 metres. The year is 1894, and the Snowdon Mountain Tramroad and Hotels Company Limited has been formed to build a branch line from Llanberis to the summit. You can scarcely believe it's possible!
In Snowdonia players represent work gangs providing labour for the construction of the Snowdon Mountain Railway. Unlike other train games you will have to excavate your way up a mountain side, as well as make and lay the track, construct viaducts and stations. All this in competition with the weather of the Welsh mountains (and the game itself)!
You may be assisted by a train (though that's not always best) and you'll be able to collect essential materials from the Stock Yard. You will obtain special work contracts that give you bonuses.
Can you contribute more than the other players to the magnificence of the Snowdon Mountain Railway?"
---
IDO – 37% Off!

Description from BGG:
"IDO is both a work of art and a game. You may want to display it permanently in your living room. Players move colorful blocks on the abstract board trying to get four of their blocks from one side to the other. Players may also move the board to change the board's geometric pattern and move their pieces closer to their goal. The first player to move of his pieces across the board is the winner!"
---
Samurai Spirit – 35% Off!

Description from BGG:
"You and your fellow samurai companions are the only standing obstacle between one frightened village and a full horde of blood-thirsty villains. The fight seems unfair as the seven of you might not seem to measure up to the dozens of enemies who want to slice you to pieces — but this comparison doesn't take into account your strong combat skills and an efficient team spirit that binds your samurai squad enough to face the threat. Above all else, when everything seems desperate and lost, your enemies will discover that inside each of you lies a true beast, a warrior spirit ready to unleash its full power!
Samurai Spirit is a co-operative game in which each player is a fierce samurai defending a village surrounded by a horde of bandits. The game plays out over three turns during which each player takes turns drawing bandit cards, then choosing whether they want to fight the bandit, defend the village, or let the bandit pass in order to help the other samurai.
The challenge of the game consists of balancing your choices: Should you fight each enemy to quickly reach your beast capacities, while also coming closer to the death and risking further loss by not defending the village sufficiently? Should you mainly defend or help the other samurai, taking the risk of remaining human too long and therefore weaker, when you know that weakness will be a major problem when facing the lieutenant and the villain bosses? Each enemy presents a tough choice to you, your team, and ultimately the whole village! Each turn ends with farms and fences being destroyed, and since those aren't unlimited, you must do what's necessary to end the game with at least one undamaged farm and enough farmers to tend it. Do you have what it takes to stand against evil and become a true hero?
Fight with courage, smartly assist your teammates, defend the poor villagers, turn into a savage beast, and wreak havoc on the enemy lines — all of this is up to you! Ultimately it would be your honor to chose to die in a ultimate sacrifice in order to save the village. All of this is what makes the true samurai spirit!"
---
Vampire Empire – 73% Off!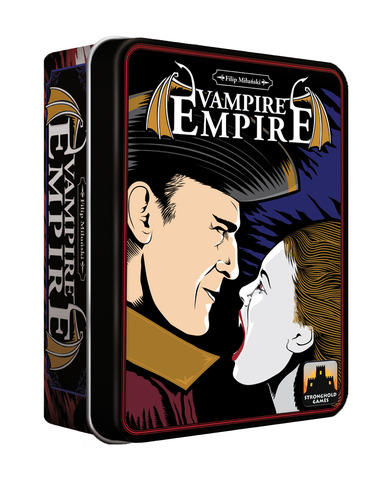 Description from BGG:
"In a foreboding castle somewhere in central Europe, a strange fear has descended upon the inhabitants. One morning the body of a young girl was found, as pale as a sheet of paper, dry and totally drained of blood. Vampires are on the prowl! Who is the monster who murders innocent during the night? Before the truth will be discovered, more than one person may face unjust accusations thrown out by the devious servants of darkness. Will the vampires be successfully caught before they endanger the entire society, or will the castle and city fall forever into darkness?
Three characters in the castle are vampires. A human investigator is trying to determine which three of nine characters he encounters are, in fact, monsters hiding in human form so that he can eliminate them. The head vampire, on the other hand, must bluff cleverly, present confusing clues, and trick the humans into attacking innocent citizens. By doing this, the vampire can kill the most important characters in the city or conquer the castle.
Vampire Empire is a two-player card game with a lot of bluffing and player interaction. In this very thematic setting, each player possess a unique deck of cards granting different powers, and each player had different goals to win the game!"
---
Dragon Farkle – 50% Off!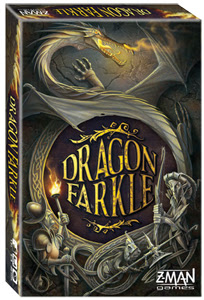 Description from BGG:
"Gather your courage! The long-enjoyed peace of Yon has been disrupted by a ferocious and mean-spirited dragon — he's terrorizing the locals and eating their livestock without their permission! Fortunately, a few wannabe heroes (that's you!) have risen to the challenge of slaying the beast. Get yourself a brave companion, gather a powerful army, and enter the Dragon's Keep for cheese and country in Dragon Farkle!
To play, you gather an army of loyal soldiers or steal them from your opponents, hire suspicious-looking companions and gain allegedly useful items (most of which aren't even cursed), then fight that dragon you've heard so much about — or don't, if you hate winning…"
---
Star Realms: Crisis – Bases and Battleships, Star Realms: Crisis – Events, Star Realms: Crisis – Fleets and Fortresses and Star Realms: Crisis – Heroes – All 50% Off!

Description from BGG:
"Star Realms is a spaceship combat deck-building game by Magic Hall of Famers Darwin Kastle (Battle for Hill 218) and Rob Dougherty (Ascension Co-designer).
Star Realms is a fast paced deck-building card game of outer space combat. It combines the fun of a deck-building game with the interactivity of Trading Card Game style combat. As you play, you make use of Trade to acquire new Ships and Bases from the cards being turned face up in the Trade Row from the Trade Deck. You use the Ships and Bases you acquire to either generate more Trade or to generate Combat to attack your opponent and their bases. When you reduce your opponent's score (called Authority) to zero, you win!
With multiple decks of Star Realms, one for each two people, you can play scenarios that allow for up to six players."
---
Rivet Wars: Eastern Front – 37% Off!

Description from BGG:
"Rivet Wars is a miniatures boardgame that springs forth from the warped imagination of Ted Terranova – set on a world that never quite left World War I but with crazy technology like walking tanks, diesel powered armor, unicycled vehicles and armor plated cavalry!
Don't let the cute visuals fool you, it's a world full of angst, war-torn camaraderie and dark humor.
Rivet Wars is at its heart a strategy game, with both players deploying units each round to counter the threats set forth by their opponent and stay one tactical step ahead.
Heavily influenced by Ted's experience working on RTS games like Rise of Nations, players gather resources (bunkers and capture points) and use these to deploy streams of new units!
There's an ebb and flow on the tactical landscape and you can stock up surprises for your opponent to be unleashed even as he thinks he's winning!"