Tiny Epic Defenders Group Game Deal – $23.50 with FREE shipping. Regularly $25 + Shipping.

From BGG:
"In Tiny Epic Defenders, players must select their class and work together to defend the foreboding horde and slay the Epic Foe.
Will you take on the role of the Barbarian, the Sorcerer, the Cleric or the Warrior? Each class has a unique player power that you will need to use.
In this fast-paced game, players will scramble between various regions outside their Capital City fighting off enemy hordes! Each region will offers unique properties that players must calculate into their strategy
If your group is fortunate enough to defeat the wave of monsters, you may live long enough to face the Epic Foe! Which Epic foe will it be? Will you be prepared!?
Does your group have what it takes to survive? Will you have the synergy to be crowned the Tiny Epic Defenders!?".
---
Mice and Mystics: Downwood Tales Expansion – 43% Off!

From BGG:
"Mice and Mystics: Downwood Tales is a box chock full of adventure and whimsy. New storybook, a pile of new miniatures, new heroes, new villains, new location tiles, new search deck items. Downwood Tales takes the adventure outdoors. Meet frogs, turtles, rabbits, the wise sages – the three blind mice, ride leaves like parachutes out of the trees and much, much, much more.
Downwood Tales gives you multiple playable characters, new villains, new minions, tiles, a ton of new mechanics, equipment, new story arcs and more! New to this big box expansion is the gecko named Jakobe and he's not your run-of-the-mill gecko, he's a smooth operator, a ranger of the forest, a lizard for hire who is leading our heroes through some of the greatest dangers they will ever face! With more fun elements than you can shake your tail at, Downwood Tales is the next exciting installment in the Mice & Mystics world!".
---
Ravensburger Labyrinth – 40% Off!

From BGG:
"Labyrinth (formerly The aMAZEing Labyrinth) has spawned a whole line of Labyrinth games. The game board has a set of tiles fixed solidly onto it; the remaining tiles that make up the labyrinth slide in and out of the rows created by the tiles that are locked in place. One tile always remains outside the labyrinth, and players take turns taking this extra tile and sliding it into a row of the labyrinth, moving all those tiles and pushing one out the other side of the board; this newly removed tile becomes the piece for the next player to add to the maze.
Players move around the shifting paths of the labyrinth in a race to collect various treasures. Whoever collects all of his treasures first and returns to his home space wins!
Labyrinth is simple at first glance and an excellent puzzle-solving game for children; it can also be played by adults using more strategy and more of a cutthroat approach.".
---
Krosmaster Arena – 35% Off!

From BGG:
"In Hormonde, a strange world deep in the folds of time, the Hour Demons have finally found a hobby worthy of their cruel hearts… the Arena! The idea is simple. They select warriors of all ages and lands and whisk them away to the Hormonde where the enslaved gladiators must fight for their souls and the chance to become the ultimate champion. Why don't the gods put an end to this macabre circus? Why does Xelor himself turn a blind eye to the demons' meddling with time's delicate web? Well, you may ask, but it is not for us mortals to know the minds of the gods.
Krosmaster: Arena is a player-vs-player, tactical card game with anime-style miniatures that offers the craftiest tacticians among you the chance to challenge other players to heated battles in arenas scattered around Hormonde. All players build their team using a pre-determined method, whether a point system, draft, or at random. Equip your team with spells, weapons and other items adapted to their requirements, then utilize their various talents and abilities to create a powerful fighting force. Every figure has a point value attached to it to help balance things out. Randomly drawn event cards spice up the game at each turn, and the winning conditions differ for each game based on the scenario you choose to play. Only those who are able to create a strong, yet versatile, strategy will prevail!".
---
Not Games But Great for Game Parts!!!
4D New York City Skyline Time Puzzle – 37% Off!

London 4D Cityscape Puzzle – 40% Off!
4D Cityscape Game of Thrones: Westeros Puzzle – 33% Off!
---
Panic Station – 67% Off!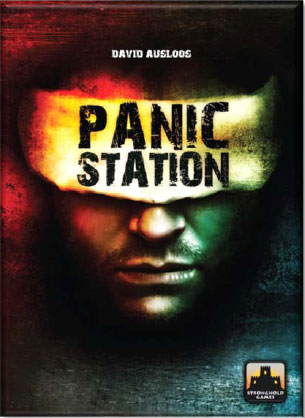 From BGG:
"Panic Station is a paranoia-driven partly cooperative game in which you control two characters in the Extermination Corps sent out by the government to investigate the presence of fiendish alien life forms.
Players need to move both their Androids and Troopers through the base, exploring and gathering equipment that will help them to complete their mission: to find and destroy the Parasite Hive hidden somewhere in the inner depths of this hell. When a player manages to get his Trooper into the Hive location and play three gas can cards to fuel his Flamethrower, he wins the game for the humans.
However, one of the players is a Host. He must keep this identity secret, infecting as many team members as possible to gain allies and prevent the humans from completing their mission. Only players who carefully watch the behavior of team members and find a good balance between cooperation and paranoia will stand a chance against the infected players and roaming parasites.
The game uses a unique exponential traitor-system and combines tactical play with a compelling psychological mindgame amongst players.
Panic Station is a game of growing paranoia in which no one can truly trust anyone. Can you maintain your sanity and destroy the source of this evil?".
---
Munchkin Zombies Deluxe – 48% Off!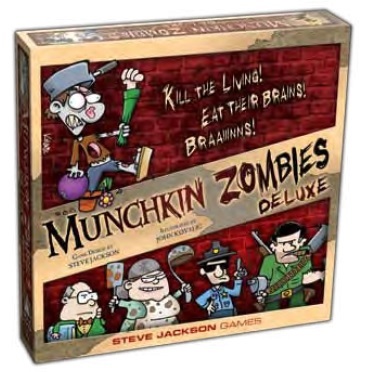 From BGG:
"In a reversal of roles, all players in Munchkin Zombies start out as zombies, and the "monsters" are the normal people trying to stop the zombie invasion (such as the Action Hero, Soccer Mom, Fireman, etc.). Unlike most Munchkin games, there are no classes or races; instead, you can have a mojo: Atomic Zombie, Plague Zombie, and Voodoo Zombie. As with Munchkin Bites! and Super Munchkin, Munchkin Zombies includes powers – special abilities that you can play as you gain levels.".
---
Last Night on Earth – 45% Off!

From BGG:
"Last Night on Earth, The Zombie Game is a survival horror board game that pits small-town Heroes head-to-head against a horde of Zombies. A team of four heroes is chosen by one set of players, and the Zombies are controlled by 1 or 2 players. Each hero has its own special abilities. The board is modular, which changes the layout of the town and start positions of each hero. The game comes with several scenarios, which include simple survival, rescue, or escape. Differing combinations of heroes, scenarios, and board configurations offer a lot of replayability.
A Hero deck and a Zombie deck deliver tactical bonuses to each side. Combat is resolved using 6-sided dice, modified by the weapon cards heroes may be equipped with. Many of the cards include zombie movie tropes to achieve a feel of playing out a horror movie. All the game art is photographic, enhancing the cinematic feel. The game also comes with a CD Soundtrack of original thematic music.
Each hero has its own plastic sculpted miniature. The game also has 14 zombies in two colors. Other objects and effects are represented by high-quality cardboard counters.".
---
Bring Out Yer Dead – 36% Off!

From BGG:
"Bring Out Yer Dead is a morbid game of grave family plots.
As the head of your family, you must get the "dying" members of your family into the best plots in the city's newest cemetery. Each day the Grave Keeper brings the cart around the city and you must vie to get your family members in the cart before other families do. But be careful! The Grave Keeper is a lazy guy and any coffins he can't fit in the cart are tossed aside in the river; he'll never bother to bury them at all!
Get your recently departed family members buried in the best plots in the cemetery to gain influence in the city. You may even have to resort to some early morning grave swapping — or you could just rob the graves of all the jewelry you can dig up…it isn't like they're going to need it anyway! Influence is everything! The player with the most influence at the end of the game wins.".