A Game of Thrones: The Board Game Second Edition – 36% Off!

From BGG:
"King Robert Baratheon is dead, and the lands of Westeros brace for battle.
In the second edition of A Game of Thrones: The Board Game, three to six players take on the roles of the great Houses of the Seven Kingdoms of Westeros, as they vie for control of the Iron Throne through the use of diplomacy and warfare. Based on the best-selling A Song of Ice and Fire series of fantasy novels by George R.R. Martin, A Game of Thrones is an epic board game in which it will take more than military might to win. Will you take power through force, use honeyed words to coerce your way onto the throne, or rally the townsfolk to your side? Through strategic planning, masterful diplomacy, and clever card play, spread your influence over Westeros!
To begin the game, each player receives an army of Footman, Knight, Siege Engine, and Ship units, as well as a set of Order tokens and other necessary components. Each player also receives a deck of unique House Cards, which are used as leaders in battles against rival Houses.
Each round in the game is made up of three phases: the Westeros Phase, the Planning Phase, and the Action Phase. The Westeros Phase represents special events and day-to-day activities in Westeros. There are three different Westeros Decks, and each denotes a different global action, potentially affecting all players.
The Planning Phase is perhaps the most important. Here you secretly assign orders to all of your units by placing one order token face down on each area you control that contains at least one unit (Knight, Footman, Ship, or Siege Engine). This portion of the game emphasizes diplomacy and deduction. Can you trust the alliance that you made? Will you betray your ally and march upon him? Players may make promises to each other (for aid or peace, for example), but these promises are never binding. The result is tense and compelling negotiations, often ending in backstabbing worthy of Westeros!
During the Action Phase, the orders are resolved and battle is entered! When armies meet in combat, they secretly choose one of their House cards to add strength to the battle. Finally, the Houses can consolidate their power in the areas they control and use that power in future turns to influence their position in the court of the Iron Throne and to stand against the wildling Hordes.
In addition to featuring updated graphics and a clarified ruleset, this second edition of A Game of Thrones includes elements from the A Clash of Kings and A Storm of Swords expansions, including ports, garrisons, Wildling cards, and Siege engines, while introducing welcome new innovations like player screens and Tides of Battle cards.
Tides of Battle cards are an optional mechanism that brings an element of unpredictability to combat, representing erratic shifts in the momentum of war due to factors such as weather, morale, and tactical opportunity. During each combat, both players draw one Tides of Battle card from a communal deck, and its value modifies the strength of his chosen House card. What's more, such a card may also contain icons that can affect the outcome of the battle…all of which delivers a new level of intensity to your military engagements."
---
Blue Moon Legends – 36% Off!

From BGG:
"The once proud and strong Blue Moon City has been plunged into chaos. The Golden Dragon has fallen, the Holy Crystal of Psi has shattered, and the old King has drawn his last breath. Worse, Blue Moon, the creator of all things, has vanished and Blue Moon City is left without a ruler.
Now the three elemental dragons – the only divine creatures remaining in the world – guard the fragments of the Crystal. The two royal heirs, Prince Roland and Princess Elinor, vie for the crown. The peoples of Blue Moon City may not know whom to follow, but whoever can rally them and claim the throne will gain the power to restore the Holy Crystal of Psi and perhaps convince Blue Moon himself to return.
Prepare to battle for the throne and restore peace to the city in Blue Moon Legends, a collected version of Blue Moon, Reiner Knizia's classic card game for two players! In Blue Moon Legends, you will gather the allegiance of one of the peoples of Blue Moon City, then lead them in a series of fights against another people. By winning these fights, you aim to attract the fickle attentions of the elemental dragons and win your way to the throne of the city.
Players can either play the game straight out of the box with decks or strategically customize the perfect deck to take down their opponent. With hundreds of cards from which to choose, no two games will be the same. Blue Moon Legends contains all cards from award-winning designer Reiner Knizia's Blue Moon card game in a single box."
---
Nations: The Dice Game – 45% Off!

From BGG:
"From the humble beginnings of civilization through the historical ages of progress, mankind has lived, fought and built together in nations. Great nations protect and provide for their own, while fighting and competing against both other nations and nature itself. Nations must provide food as the population increases, build a productive economy, and amaze the world with their great achievements to build up their heritage as the greatest nations in the history of mankind!
Nations: The Dice Game is a game for 1-4 players that takes 10-15 minutes per player and shares many concepts with the civilization-building game Nations while still offering its own challenges. The game is played over four ages (four rounds). During each round, players take turns until all have passed. The available actions are:

Buy a tile
Build a wonder
Reroll some or all your dice
Buildings and military provide dice. Colonies and wonders provide resources and victory points. Advisors provide rerolls. New tiles provide benefits immediately, so you can roll new dice at once.
At the end of each round, War and Famine drawn at the start of the round is checked for each player, giving you victory points if you match or beat the values. Books are accumulated and scored. Player order is checked, with high military strength going first in the next round. At the end of the game, whoever has the most victory points wins."
---
Game of Crowns – 50% Off!

From BGG:
"Many will sit on a throne, but only one can wear the crown!
Long ago, the great Ruelen Empire was united under a single banner. In the aftermath of Ruele's Doom, the Empire was shattered, torn apart into nine houses each led by one of the Emperor's former council. The realm was thrown into bitter conflict as each of the nine houses vied for power over the others – each seeking to reunite the broken Empire under their rule. This conflict became known as the Game of Crowns.
In Game of Crowns, each player takes control of one of the nine noble houses. During the game, players can exchange cards and favors through diplomatic relations, or directly attack opponents through warfare in order to take what they want. It will take clever planning, skillful negotiation, and daring confrontations to gain dominance over your rivals and seize the crown!"
---
Elfquest Adventure – 47% Off!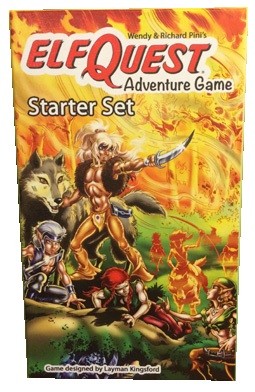 From BGG:
"Elfquest's World of Two Moons is calling! Gather your elf tribe together – your very survival is at stake. Life can be difficult, even brutal, as you deal with fearful and violent humans, treacherous and manipulative trolls, and all manner of strange creatures and harsh environments.
It is time to embark on an epic journey of discovery to seek and find long-hidden answers about your mythical elfin ancestors, the High Ones. Each player selects a character, gathers up their attending items, skills and allies and joins their tribe-mates to complete tasks, events and quests.
There are a limited number of seasons during which you need to complete each scenario card. If you fail to do so, every member of your tribe loses resources (cards, tokens and cubes). If ever a character runs out of cubes, they are killed and removed from the game.
Each scenario pulls directly from 35+ years of Richard & Wendy Pini's epic saga of comics and graphic novels. Sometimes your tribe will have to fight humans, negotiate with new elf tribes, travel across snow-laden mountains, mate to increase your tribe's numbers, hunt and harvest to keep everyone fed or craft new items to help in your journey.
This cooperative game for 1-4 players delivers all the wonder, passion, danger, compassion and betrayal of the original best-selling series. It features the breathtaking artwork of Wendy Pini interwoven with the imaginative game design of Layman Kingsford. You will stretch your gaming and social skills as you interact with the extraordinary realm of Elfquest as you've never seen it before!"
---
Chopstick Dexterity Mega Challenge 3000 – 40% Off!

From BGG:
"Chopstick Dexterity MegaChallenge 3000 is a simple but frantic dexterity game in which the object is to collect the most tokens by using chopsticks to pick up the object shown on the token. The theme is presented as a TV game show intended to promote the use of chopsticks among Japanese youth.
To set up, place 25 objects — which comes in five colors and five shapes — in a plastic bowl. Shuffle the tokens face-down, then draw one and reveal it. Tokens show either a specific object or a generic shape in all colors; to win this token, players simultaneously compete to get wooden pieces represented on it. Using only chopsticks, players try to grab specific wooden shapes or colors from a large bowl to their personal target dish. In the three-player game, all players must grab all of the pieces which are either the shape or the color shown on the token. Whoever grabs the most objects wins the token. In a tie, the tied player with the exact shape shown on the token wins.
In the two-player game, the players must grab only the exact piece shown on the token. After each round, the token is awarded and the objects returned to the bowl to start the next round. Play continues until a certain number of tokens are won.
In the solo version, the player is given 75 seconds to remove the pieces from the bowl with their chopsticks to place each piece in a grid with each row given to one of the shapes and each column given to one of the colors."