Steam Park (Updated Deal) – 64% Off!
Originally posted by Ben Gerber on the Board Games community on Google +.
From BGG:
"As owners of a fantastic steam park, you're to build gigantic, coal-powered rides to attract as many visitors as you can – but building attractions won't be enough. You'll also need to manage your employees, invest in advertising in order to attract and please the different kinds of guests visiting your park, and, above all, keep the dirt that your park produces under strict control!
Steam Park is an easy-to-learn game with two difficulty levels: one for the less experienced gamers and a more strategic one for those who want a more exciting challenge. In this management game, you'll have to build your own amusement park and make it the largest and most profitable in the region. By constructing the three-dimensional, wonderful rides designed by Marie Cardouat, you will see your park grow right before your eyes. Choose your strategy! Build Stands to attract more Visitors, or Toilets to keep the Dirt under control. Whatever decision you take, take it quickly: The less time you spend planning, the more time you'll have to maintain your park. Thanks to a clever, original action-choosing mechanism, winning in Steam Park is as much a matter of being the best as of being the fastest!"
---
Sparta – 62% Off!
From BGG:
"In the strategic game Sparta, set in 228 B.C., you will relive the fascinating experience of skillful Spartan and Achaean warriors. Will Sparta seize power, or will the Achaeans maintain their stance?
Designer Yannick Holtkamp developed this strategic game at the age of 12. Still at school at age 14 in late 2011, he is enrolled as a science student at the University of Düsseldorf."
---
Worker Placement – 69% Off!
From BGG:
"Worker Placement is an easy-to-learn strategy board game of earning cash and gaining reputation. In the game, you assume the role of a temporary employment agency CEO who is trying to build his or her start-up business into a thriving operation. The path to success seems simple enough: hire unemployed temp workers, help them to upgrade their skills, and find them the best short-term jobs so your company can get paid its cut. Competition with other temp agencies is fierce, though, so establishing a solid reputation as a reliable and dependable agency can bump your workers towards the front of the employment line.
Worker Placement plays in about 45 minutes and is suitable for 2-5 players, ages 10+. With a variety of engaging play mechanics – including card drafting, hand management, bidding, set collecting, and of course worker placement – playful illustrations with accompanying flavor text, and simple rules that take only minutes to learn, running a successful temp agency business has never been this much fun!"
---
Chang Cheng – 69% Off!
From BGG:
"More than 2500 years ago, the emperor of the Qin dynasty decided to protect his prolific provinces of northern China from the frequent barbaric invasions, building and joining several fortified fortresses. So he nominated his most faithful imperial officers to oversee the construction, promising riches and honours to the first who would have completed what now represents one of the most remarkable works produced by men: Chang Cheng™, the Great Chinese Wall.
Take on the role of one of the 4 officers of the emperor and try to increase your reputation in his eyes. Build parts of the Great Wall to defend the Chinese provinces and compete with the other players to gain the reputation that comes from protecting the most important ones. But beware of the threat of the Mongols who hang near the border. . .
In this game of clever placement, players take turns adding pieces to the Great Wall. On one side of the wall lay the Chinese provinces, each with its own point value. On the other side are the provinces of the Mongol invaders, each with a randomly-assigned negative point value. Since provinces on either side do not directly correspond to each other, the goal is to place your pieces so that you can attain a majority on the Chinese side (for positive points) while avoiding having a majority on the Mongolian side (for negative points). Players also have a set of cards (tiles actually) that give them a few special privileges to help themselves or interfere with other players.
The game also comes with optional cards that may be used to provide other methods of scoring points."
---
Formidable Foes – 62% Off!
From BGG:
"Once again, our unfortunate friends find themselves foreigners trapped within the frightful Fortress Furor of the fanged Prince Fieso who would, with felicity, see them flounder and faint. These fine fighters could feasibly face their finish in this forbidding fortification, whose fearsome floors even now flow frighteningly from beneath their feet as the famished Furunkulus forages the fringes, fixing to feast on the foreigners' flesh. Forthwith, must our fighters fashion their flight from this foulest of fates! But what's this? By the light of their fallow and flickering flares, our friends find the depths fraught with the most furious of fiends and the fiercest of freaks! With fleet feet, the fearless foreigners follow these ferocious fellows through the fortress, with its multifarious footpaths and their frustrating forks, forging fervently forward toward freedom and fame. Our fighters must not falter from whatever feud or fracas would foil their function: to finally furnish the forlorn Faerie Fabula her freedom from feckless Fieso's fists!"
---
Star Wars X-Wing: TIE Interceptor Expansion Pack – 60% Off!
From BGG:
"Imperial players can add a lethal starfighter to their X-Wing squadrons with the Star Wars: X-Wing Miniatures Game – TIE Interceptor Expansion Pack. The finest mass-produced starfighter of its time, the TIE Interceptor excels at dogfighting thanks to its heightened maneuverability, increased speed, and four wing-mounted laser cannons. With its detailed miniature, two upgrades, and six skillful new pilots that include the renowned Soontir Fel, the TIE Interceptor Expansion Pack creates exciting opportunities for all Imperial X-Wing players!"
---
Star Wars X-Wing: A-Wing Expansion Pack – 60% Off!
From BGG:
"Conceived by General Dodonna, the RZ-1 A-wing interceptor proved its worth by crippling Star Destroyers during the Battle of Endor. Now this highly maneuverable starfighter adds another exciting dimension to Rebel squadrons. The Star Wars: X-Wing Miniatures Game – A-Wing Expansion Pack introduces one A-wing miniature with four pilots and five upgrades. Only the most talented pilots belong in an A-wing cockpit as they push the starfighter's limits in the galaxy's deadliest dogfights!"
---
The Fittest – 55% Off!
From BGG:
"You've been selected for the most rigorous, cutthroat reality competition on TV! As a contestant, you'll compete in challenges and work with and against the other competitors for a shot at fame and fortune. You won't win if you go it alone, but don't get too friendly! You'll have to do a bit of backstabbing to emerge victorious.
The Fittest features fierce social play and shifting alliances. Players will have to evaluate a challenge each round and convince other players to work with them in order to best the challenge for variable rewards. The player who has best managed their alliances and achieved the best rewards at the end of the game will be the victor.
The Fittest was chosen as a runner-up in the Dice Hate Me 54-Card Challenge – a contest that asked designers to create a game with 54 cards with minimal components. The Fittest was chosen as one of the best out of a pool of over 100 game entries."
---
Plunder – 63% Off!
From BGG:
"Plunder is a deduction card game in which everyone is a pirate captain with a buried treasure. Players attempt to steal the hidden treasures of the other captains by figuring out the three landmarks that mark where each treasure is hidden. The first player to a treasure takes the largest share, while those who reach it second or third receive less. Keeping your treasure from being stolen is also worth victory points in the end. Find and steal the most treasures first to win in the end!"
---
Firefly The Game: Base Game Customizable Resin Ship Models – 54% Off!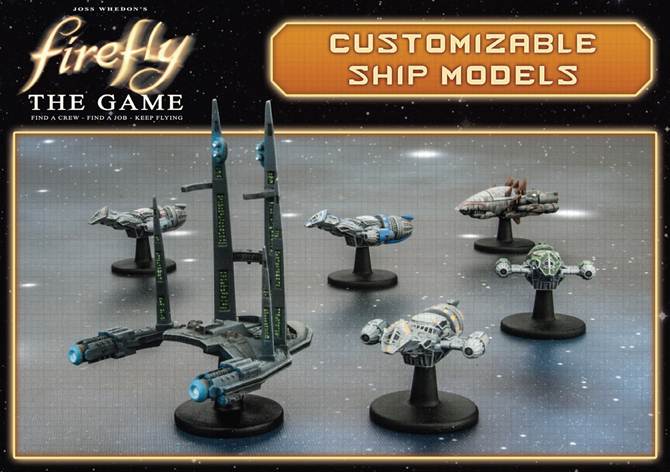 From CSI:
"The Firefly-class ship is a multipurpose, mid-bulk transport boat designed by Allied Spacecraft Corporation. From when the first series one hit the market in Feb 2435 to the latest series four model in July 2513, they represent one of the most versatile and readily available ship types in the verse.
The Tohoku-class cruiser was conceived as a mobile base for pacification operations, and a visible symbol of Alliance power and prestige. In essence, each Tohoku is a self-contained city in space, providing a platform for the Alliance to bring the benefits of civilization to the backward worlds of the Rim.
Reaver starships are abominations: older-line models for the most part often no longer used by other inhabitants of the 'verse. They are festooned with bits of random debris and ghoulish junk, a characteristic paint scheme of red slashes, and the skeletons of their prey, and are frequently armed with a magnetic grappler with which to seize victim ships.
This box contains a full set of the models from the basic game that have been re-mastered and produced in high detail resin so that you can customize your own ships and give them your unique paint schemes."
---
Sun Tzu – 40% Off!
From BGG:
"In 506, Sun Tzu marched up the Hwai River where he was assaulted by Ch'u armies under the command of King Shao. Sun Tzu and his Wu soldiers were outnumbered and King Shao's armies held the high ground. Sun Tzu feigned retreat and tricked King Shao into spreading out his forces, ready to pursue. With the Ch'u scattered, Sun Tzu crushed their forces in piecemeal fashion at the battle of Bai Ju, routing the Ch'u back to their capital of Ying. King Shao fled Ying seeking refuge and asylum across the borders while Sun Tzu remained the master of strategy and tactics.
In Sun Tzu, a.k.a. Dynasties, players take on the role of Sun Tzu or King Shao, leading these two opposing armies in an attempt to unify China through the deployment of their armies and forces rather than by brute force. Each turn players play cards to specific provinces, then reveal them individually by province. Armies are added or removed from the province depending on who played the higher valued card or who played a special card. Some cards can only be used once, so playing the card at the correct time is critical to a winning strategy. The game has a feel of "tug-of-war" as the scoring marker starts in the middle of the scoring scale and the players attempt to move the marker to their side of the track. The game ends after nine rounds or if either player is able to move the scoring marker to the last space on his side of the scoring track."
---
La Granja – 43% Off!
From BGG:
"In La Granja, players control small farms by the Alpich pond near the village of Esporles on the island of Mallorca. Over time, the players develop their farms and deliver goods to the village. Players are vying to earn the title of "La Granja" for their country estate!
Over the course of 6 game rounds, players will expand their farm by adding fields, farm extensions, market barrows, and helpers. They will earn VPs by delivering goods to the village of Esporles. It is important to observe the actions of other players, manipulate turn order, and adjust your strategy based on the dice and cards.
La Granja is a fascinating game that requires careful planning. Timing and speed is crucial. However, successful players must cope with the uncertainty of events during the game. The player who has earned the most victory points at the end of the game is the winner and new owner of the La Granja estate!"