Zombie Dice – 34% Off!
From BGG:
Eat brains. Don't get shotgunned.
In Zombie Dice, you are a zombie. You want braaains – more brains than any of your zombie buddies. The 13 custom dice are your victims. Push your luck to eat their brains, but stop rolling before the shotgun blasts end your turn! Whoever collects 13 brains first wins. Each game takes 10 to 20 minutes and can be taught in a single round.
Each turn, you take three dice from the box and roll them. A brain symbol is worth one point at the end of the round, while footsteps allow you to reroll this particular dice. Shotgun blasts on the other hand are rather bad, cause if you collect three shotgun blasts during your turn, it is over for you and you get no points. After rolling three dice, you may decide if you want to score your current brain collection or if you want to push your luck by grabbing new dice so you have three again and roll once more.
---
The Walking Dead Risk: Survival Edition – 30% Off!
From BGG:
In many ways, Risk: The Walking Dead – Survival Edition features the familiar Risk gameplay, with players facing off against one another in order to claim territories on a map, win bonuses, and eliminate the opponents.
What differs with this game, though, is that players are battling on a map depicting the southeast region of the United States, the setting for The Walking Dead comic series, with the map featuring 32 territories and six zones. In addition to fending off attacks from and competing for resources with the other players, they must also maintain their self-preservation from the unrelenting hordes of the undead that spawn at the start of each player's turn and would love nothing better than to feast upon them.
Risk: The Walking Dead includes a deck of event cards, with each player drawing one at the start of his turn. These cards refer to story events from The Walking Dead, with players facing various rewards and penalties depending on the situation.
The game ends after a fixed number of turns, but players can also choose to battle until all but one player is eliminated.
---
Quarriors Dice Building Game – 38% Off!

From BGG:
Players take on the roles of Quarriors – mighty mystical warriors who have the power to capture dangerous quarry from the untamed Wilds! They must conjure the mysterious powers of Quiddity, cast powerful spells, and summon their creatures to battle if they hope to overcome rivals and earn their rightful place as the Champion!
Quarriors has the frenetic excitement of a dice battle game, with an added 'deckbuilding' twist: players customize their dice pools during the game using resources generated by their rolls.
Quarriors takes the best of deckbuilding games without the tedium of shuffling. Take a typical deckbuilding game, add the speed and fun of dice and in 60 minutes you're on your second or third game trying unique strategies against your opponents.
---
Mars Attacks The Dice Game – 33% Off!

From BGG:
In Mars Attacks: The Dice Game, the Martian players compete to see who can subjugate which U.S. cities first.
At the start of the game, four stacks of cards are dealt out randomly, with each stack having as many cards as players. On a turn, the player first declares which city he wants to attack, then rolls all ten dice. Any dice showing the "nuke" symbol are locked and cannot be rerolled. Laser guns are similarly locked, allowing the player to reroll only the alien heads. If he rerolls and ever has as many nuke symbols showing as the number on the face-up cards and the supplementary token, his turn ends; otherwise he can stop at any time, and if he doesn't have enough guns or alien heads to claim his target, he marks his total with one of his tokens, allowing him to add on to this number on a future turn — assuming that someone else doesn't claim the card first.
Some city cards have special powers, such as Seattle's, which allows you to place one die on the symbol of your choice prior to rolling. Las Vegas, true to its nature, wants you to go bust multiple times in order to claim the card. Whoever ends up decimating the largest portion of the earth wins. Ak ak ak ak ak!
---
Space Cadets: Dice Duel – 32% Off!

From BGG:
Space Cadets: Dice Duel – the "Team vs. Team, Real-time, Dice-Rolling Game of Starship Combat!" – pits two spaceships against one another in quick-paced combat. The players are divided into two teams, each team playing the crew of a ship and winning or losing together based on how well they perform. The game ends when one side destroys their opponent by causing four points of damage through torpedoes or mines. Each ship has six Bridge Stations:
Engineering generates power for the other stations.
Helm maneuvers the ship on the map.
Weapons loads the torpedo tubes to attack the enemy.
Sensors locks onto the enemy so torpedoes can hit, and uses jammers to stop the enemy from locking on.
Shields helps protect the ship from enemy torpedoes.
Tractor Beams can grab the powerful crystals, move the enemy ship on the map, and launch Mines.
Each player is in charge of one or more of these stations, or has the overall role of Captain to coordinate everything. There are no game turns in Space Cadets: Dice Duel; instead the game continues with players acting as quickly as possible until one side wins.

---
Maharani – 63% Off!

From BGG:
In Maharani, the players are architects helping the King to complete the Taj Mahal palace by placing beautiful mosaic tiles. These tiles come into play through a rotating rondel, which enables every player to place the tiles in different parts of the palace. Once the mosaic is complete, the best architect wins the game.

---
XCOM – 33% Off!

From BGG:
You are humanity's last hope.
In XCOM: The Board Game, you and up to three friends assume the roles of the leaders of the elite, international organization known as XCOM. It is your job to defend humanity, quell the rising panic, and turn back the alien invasion.
Where the world's militaries have failed to stand against the alien invaders, you must succeed. To do so, you must make strategic use of the resources available to you. You must launch Interceptors to shoot down alien UFOs, assign soldiers to key missions, research alien technology, and use that technology to defend your base — all while trying to keep the world from collapsing just long enough that you can coordinate one final mission to repel the invaders for good.

---
Talisman: The Magical Quest Game, 4th edition – 38% Off!

From BGG:
Theme:
Talisman is an adventure board game set in a high fantasy medieval world. Players have 14 characters to choose from all based on role playing archetypes, such as heroes, wizards, villains, thieves, monsters, etc. The game makes players feel they are traveling the world to find equipment, weapons, ancient relics, and companions that will help them on their quest to acquire the Crown of Command. Along the way they visit various locales in the worlds, battle each other and fantastic creatures to make their way to the top.
Goal:
Each player is trying to move from the outer world and ultimately to the inner world. Players wander the outer, middle, and inner worlds trying to acquire equipment, weapons, and companions. They will also improve statistics with equipment, companions, and encounters and battles with fantasy creatures and each other. Once they complete a Talisman quest, players will enter the inner world and face its challenges to finally reach the Portal of Power to claim the Crown of Command. Then the other players must race to stop this player before he eventually kills them all with the Command spell.
---
Harbour – 41% Off!

From BGG:
Harbour is a worker placement game where players move their worker from building to building, collecting and trading Fish, Livestock, Wood, and Stone; and cashing those resources in to purchase buildings (which are the worker placement spots) from the central pool. Once a building is purchased, it is replaced from the deck, and the central pool is a small subset of the deck, and is therefore different every game.
The game ends when a player has purchased his fourth building. After that round finishes, the player with the most points worth of buildings is the winner!
At the heart of Harbour is a dynamic market mechanism. Each time a player purchases a building, the value of the resources they used drops, while the value of the other resources rise. You'll have to carefully time your purchases to take advantage of the ebb and flow of market prices, or be prepared to waste some resources!
---
Quantum Second Edition – 51% Off!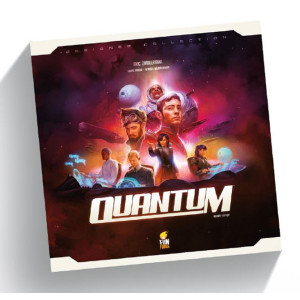 From BGG:
In Quantum, each player is a fleet commander from one of the four factions of humanity, struggling to conquer a sector of space. Every die is a starship, with the value of the die determining the movement of the ship, but also its combat power – with low numbers more powerful. So a [ 6 ] is a quick but fragile Scout and a [ 1 ] is a slow but mighty Battlestation.
Each type of ship also has a special power that can be used once per turn: Destroyers can warp space to swap places with other dice and Flagships can transport other ships. These powers can be used in combination for devastating effects. You're not stuck with your starting ships, however: using Quantum technology, you can spend actions to transform (re-roll) your ships. Randomness plays a role in the game, but only when you want: Quantum is very much a strategy game.
You win by constructing Quantum Cubes – massive planetary energy extractors. Each time you build a new one, you can expand your fleet, earn a new permanent ability, or take a one-time special move. The board itself is made out of modular tiles, and you can play on one of the 30 layouts that come with the game or design your own. The ship powers, player abilities, and board designs combine to create a limitless set of possibilities for how to play and strategies for how to win.
With elegant mechanics, an infinity of scenarios, and easy-to-learn rules that lead to deep gameplay, Quantum is a one-of-a-kind game of space combat, strategy and colonization that will satisfy both hard-core and casual players.