Amazon Prime Member Deal




I got this tip from Ben Gerber over on the Board Games Community Google + page.

"For prime members, Amazon's having a Prime Members Appreciation thingy for toys. That includes some fairly decent board games. You use the code TOYS2015 at checkout. Looks like this is going on for two weeks or so. Using the code gets 30% off the current price (which itself is often below MSRP)."
---
San Juan – 37% Off!
From BGG: "San Juan is a card game based on Puerto Rico. The deck of 110 cards consists of production buildings (indigo, sugar, tobacco, coffee, and silver) and "violet" buildings that grant special powers or extra victory points. Cards from the hand can be either built or used as money to build something else; cards from the deck are used to represent goods produced by the production buildings, in which case they are left face-down. A seven-card hand limit is enforced once per round.
In each round (or governorship), each player in turn selects from one of the available roles, triggering an event that usually affects all players, such as producing goods or constructing buildings. The person who picks the role gets a privilege, such as producing more goods or building more cheaply.
Though similar in concept to Puerto Rico, the game has many different mechanisms. In particular, the game includes no colonists and no shipping of goods; goods production and trading are normally limited to one card per phase; and trades cannot be blocked. Victory points are gained exclusively by building, and the game ends as soon as one player has put up twelve buildings."
---
Parfum – 60% Off!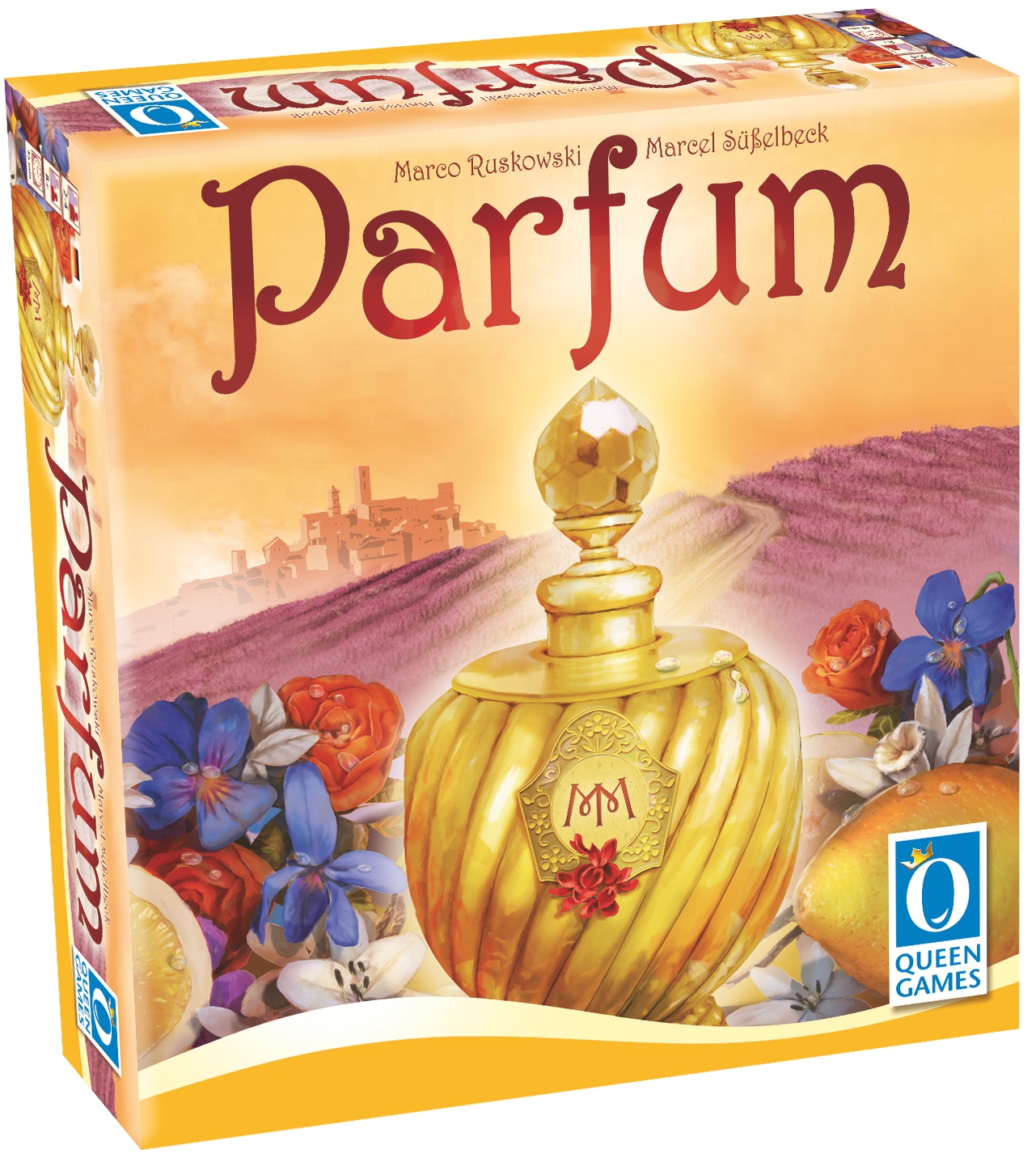 From BGG: "Who will be the most successful perfumer? Parfum takes the players to the wonderful world of fragrances. Using ingredients like vanilla, lavender or violets, the players distill precious essences in order to create unique perfumes. Only the player catering to their clientele's preferences will be able to sell their perfume. Each customer favors a specific fragrance which must be contained in a flask to induce them to buy it."
---
Neptun – 40% Off!
From BGG: "Take the role of a Roman merchant in Neptun, delivering goods to cities and temples. Earn the most favor from the temples and win the game!
The game is played over three game rounds, each consisting of three phases. Navigate the sea and coast to deliver on contracts you have acquired. But there is a catch. You get to determine the order of your contracts, but they must be filled in that order. So as you are acquiring and placing contracts, you must take into account where you are traveling."
---
Carnival – 40% Off!
From BGG: "Think Ferris wheels, roller-coasters, carousels, flying swings, and bumper cars! Open your Carnival for business before the other carnies do by building four of the five available rides along your Midway. Then cue the Carnival music and watch the crowd rush in!
Carnival is a card game of set collection for 2-4 players, ages 12+, that utilizes dice to determine actions. Each turn, a player rolls three dice and chooses two of them to perform actions which can allow them to gain and discard cards from their hand and/or Midway. Each player also has three tickets that may be discarded to affect the dice rolls or block other players' actions."
---
AquaSphere – 50% Off!
From BGG: "News from the depths! The AquaSphere is a research facility stationed deep below the ocean's surface, and your skilled team — consisting of an engineer, a scientist, reprogrammable bots and exploratory submarines — is trying to gather as much data as possible.
The game board in AquaSphere has two main areas: A research station comprised of six sectors in which your scientist conducts experiments and a headquarters where your engineer supervises preparation of the bots. During each of the four game rounds, you take several turns, and on each turn you either:
Use your engineer in the headquarters to program a bot; each round you can choose from three of the seven actions.
Have your scientist bring a bot to a sector to perform an action.
Through actions such as improving your lab, sending out submarines, collecting crystals, and examining octopuses, you expand the abilities of your team or gather knowledge points, which are necessary to win. Additional challenges result from the limited size of your lab, which is your personal stock; you can increase the size of your lab, which makes life easier, but this costs valuable time.
AquaSphere is a challenging game of strategy and tactics with different paths to victory that requires planning in advance as well as skillful use of short-term opportunities."