FEATURED KICK

STARTER

PROJECTS
---
Artist: Paul Mundie and Augustinas Raginskis
Playing Time:
30 to 90 mins
Dead Throne
is a game set in an open world, laced with adventure, and routed in strategy. It takes place in the World of Veles which has over 2,400 years of history that can be discovered through game play. Players will be competing to become the ruler of Lirennor!
The game is for 1-7 players including a solo campaign. Three ways of winning as well as the ability to simply roam around killing creatures, completing side quests and interacting with the game in the open world setting.
Dead Throne will be on
KICK
STARTER
March 10, 2018. Visit the WEBPAGE for more information.
---
Playing Time:
10 mins
In
Werewords Deluxe Edition
, players guess a word by asking "yes" or "no" questions. Figure out the magic word before time is up, and you win! However, one of the players is secretly a werewolf who is not only working against you, but also knows the magic word. If you don't guess the word in time, you can still win by identifying the werewolf! To help you out, one player is the Seer, who knows the word, but has to be careful while helping you. If you guess the word, the werewolf can pull out a win by identifying the Seer!
Werewords Deluxe Edition contains several new special roles in addition to the Mayor, Seer, Werewolves, and Villagers, and a brand new Speedwords mode, new artwork, and can play as few as two players and up to twenty players.

Werewords
is on
KICK
STARTER
between now and April 4, 2018 and has a funding goal of $5,000.
---
Legendary Coins Season 3
Legendary coins is back for its third season to enrich your gaming experience and make your games shine!
Year after year, we continue developing our coins and we are again offering new coins, with Improved quality.
We want our coins to feel Real giving players an immersive experience in our games but we also want each single coin to feel substancial. To achieve that, we make our coins Big, Premium and Heavy. Our coins do not have any numbers on them, so that they can have different denominations according to the needs of each game.
E
ach coin set contains
24 coins
(10 copper, 8 silver and 6 gold) but more might be added through Stretch Goals.
Also available, at the same price, are the Unit coin sets, which do have denominations on them and consist of
30 coins
(19 copper, 8 silver and 3 gold).
Legendary Metal Coins Season 3
is on
KICK
STARTER
between now and March 15, 2018 and has a funding goal of $10,000.
---
Designer: Martino Chiacchiera and Marta Ciaccassi
Playing Time: 90-120 minutes
Mysthea is a hand management and area control eurogame. Time-tested euro mechanics get a modern twist and are infused with a strongly thematic design to immerse you in the strange world of Icaion.
The game takes place on the planet of Icaion which was hit by a giant crystal in the distant past causing massive changes to the planet. Through time these changes created floating islands held in place by the gravitational pull of the planet. Through all of this the planet has developed a civilization which has found ways to use the power of the crystals to their benefit.
Mysthea has you taking the role of a champion with unique powers allowing them to explore new lands on Icaion with the ultimate goal of conquering five lands and returning to your homeland for victory.
It uses hand management and area control to drive game play. With the use of their champions players will be able to move islands dramatically changing the power structure on the planet.
But beware as players go about their strategic decisions they may encounter monsters that may force player cooperation in order to defeat them. Players may also make some choices as to what they encounter as they build their armies to conquer lands to victory.
Mysthea
will launch on
KICK
STARTER
March 7th, 2018. Sign up for their
NEWSLETTER
to get all the latest updates and news. Also visit their
WEBSITE
for more information.
---
Playing Time:
15 mins
Palm Island is a portable game that you can take with you anywhere. Sitting, standing, waiting, riding, flying, relaxing, alone, or together you can play Palm Island no table required.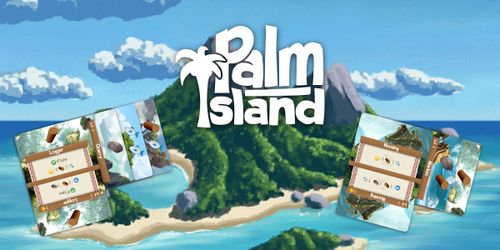 Using a deck transforming mechanic a player uses just 17 cards over 8 rounds to shape their island and overcome its unique challenges. Store resources to pay for upgrades and upgrade buildings to access new abilities. Each decision you make will alter your village from round to round. At the end of 8 rounds calculate your victory points.
The game comes with 2 player decks, competitive cards, cooperative cards and solo feat cards. Multiple games can be combined to add even more players.
Palm Island
is on
KICK
STARTER
between now and March 14, 2018 and has a funding goal of $4,000.
---
Publisher: Cutlass Boardgames
Playing Time:
5-10 mins
Castles of Caleira
is a beautifully illustrated, fantasy castle building microgame that uses clever interaction, and strategic decision trees to garner incremental advantage over your opponent. Players build their castle using one of the 18 cards per turn, to hinder their opponent or build the strongest citadel, to ultimately end up with the Castle that history remembered.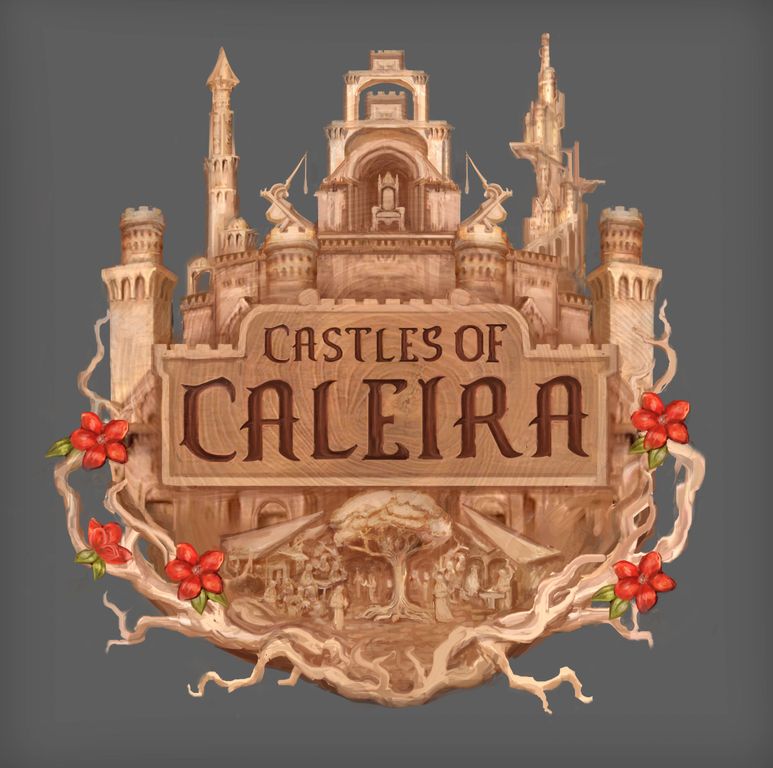 Castles of Caleira
is on
KICK
STARTER
between now and April 1, 2018 and has a funding goal of $5,579.
---
Designer: Alex Mackey & Mike Szalajko
Publisher: Lethal Chicken Games
What The Film?! is a fun party game where you get to come up with crazy movie ideas based on the hand you're dealt. On a player's turn from their hand, a player lays down an actor, set, and plot card. With 300 cards the mashups are endless. Not only are you competing with your friends, you are also fighting the clock. After cards have been played, you have exactly 36 seconds to pitch your movie magic to the table.
Voting is done simultaneously, so you don't have the time to persuade anyone at the table, no one like beggars in the film industry! On the count of three, everyone hands their colored award token to who they thought had the best movie. The player with the most points keeps their cards as points, everyone else discards the cards they played.
We know not everyone is a director at heart, for that reason we added Industry Cards. There are two types of Play Immediately's and Play and Discard and contain good and bad things that can occur on your turn or someone else's. For instance, one card can have you stealing the rounds points or another, causing you to pay union dues, which cause you to lose cards.
After six rounds, the person with the most points is declared the winner, and just like that, you're ready to receive your director of the year award!
What the Film?!
is on
KICK
STARTER
between now and March 20, 2018 and has a funding goal of $5,000.
EBG STAFF PICKS: KICK

STARTER

OF THE WEEK

---

Dane Trimble
Wreck and Ruin

Dave Merrell

Diceymon

Brody Sheard
Wreck and Ruin

David Jensen

Wreck and Ruin

Stephen Gulik

Auzstralia

Alexa Chaplin

Munchkin Teenage Mutant Ninja Turtles

Nick Shipley

Diceymon

Nicholas Leeman

Diceymon

Delton Perez

No Pick

No pick this week

George Jaros

Mysthea

Derek Dez Maggs

Auzstraila

Jeremy Davis

No Pick

No pick this week

Benjamin Kocher

Sorcerer City
NEW KICK

STARTER

PROJECTS
---
---
See all our Featured Kickstarter.com games and those coming up HERE!
Kickstarter Recap March 9, 2018
Reviewed by
Rodger Moore
on
March 09, 2018
Rating: