FEATURED KICK

STARTER

PROJECTS
---
Publisher: Self Published
Playing Time:
60-180 mins
Terminus Breach is a semi-cooperative tower defense game for 1 to 3 players set in a fantasy setting. Players will have to survive waves of enemies in order to survive and win the game.
Survive 15 waves and destroy all the Drakka to successfully defend the Empire of Arcadium. Accomplish this by building and upgrading towers, using magical powers, leveraging taxes to create War Chests, and managing Spy Networks.
Terminus Breach TD is a true tower defense board game with various options for customization making each game a different experience! Back this project to get in on the experience!
Terminus Breach is on
KICK
STARTER
between now and April 12, 2018 with a goal of $30,000.
---
Dryad Dice Towers and Trays
Designer:
Ty Beringe
r
Dryad Gaming Company
Dryad gaming company offers you beautiful handmade dice tower and trays! The goal of the designer Ty Beringer is to bring you these products to elevate your tabletop gaming experience. Ty's dice towers are hand made using traditional woodworking techniques. These are made with detail and care ensuring every tray and tower is a high end product that will last.
The dice towers and trays are available in
fourteen different domestic and exotic hardwoods.
They are not laser cut, so there is no charred or burned surfaces. They are also extremely durable because they are constructed using real wood joinery and extraordinarily strong wood glue. They are not built with magnets, and do not need assembly, so you're ready to roll at a moments notice! The finish is also remarkably resilient, with fiber penetrating resins. It is totally safe to roll metal dice in these towers!
If you want to really enhance your gaming experience and want a product that will last due to the care and detail put into every item you need to add them to your gaming collection!
Dryad Dice Towers and Trays is on
KICK
STARTER
between now and April 12, 2018 with a goal of $7000.
---
Playing Time:
10 mins
In
Werewords Deluxe Edition
, players guess a word by asking "yes" or "no" questions. Figure out the magic word before time is up, and you win! However, one of the players is secretly a werewolf who is not only working against you, but also knows the magic word. If you don't guess the word in time, you can still win by identifying the werewolf! To help you out, one player is the Seer, who knows the word, but has to be careful while helping you. If you guess the word, the werewolf can pull out a win by identifying the Seer!
Werewords Deluxe Edition contains several new special roles in addition to the Mayor, Seer, Werewolves, and Villagers, and a brand new Speedwords mode, new artwork, and can play as few as two players and up to twenty players.

Werewords
is on
KICK
STARTER
between now and April 4, 2018 and has a funding goal of $5,000.
---
Publisher: Cutlass Boardgames
Playing Time:
5-10 mins
Castles of Caleira
is a beautifully illustrated, fantasy castle building microgame that uses clever interaction, and strategic decision trees to garner incremental advantage over your opponent. Players build their castle using one of the 18 cards per turn, to hinder their opponent or build the strongest citadel, to ultimately end up with the Castle that history remembered.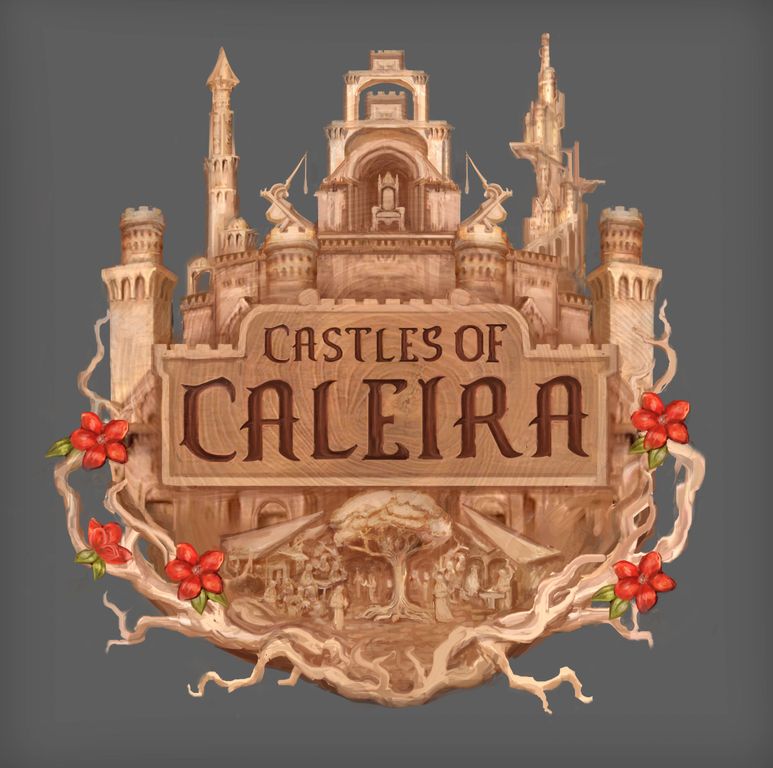 Castles of Caleira
is on
KICK
STARTER
between now and April 1, 2018 and has a funding goal of $5,579.
---
Designer: Alex Mackey & Mike Szalajko
Publisher: Lethal Chicken Games
What The Film?! is a fun party game where you get to come up with crazy movie ideas based on the hand you're dealt. On a player's turn from their hand, a player lays down an actor, set, and plot card. With 300 cards the mashups are endless. Not only are you competing with your friends, you are also fighting the clock. After cards have been played, you have exactly 36 seconds to pitch your movie magic to the table.
Voting is done simultaneously, so you don't have the time to persuade anyone at the table, no one like beggars in the film industry! On the count of three, everyone hands their colored award token to who they thought had the best movie. The player with the most points keeps their cards as points, everyone else discards the cards they played.
We know not everyone is a director at heart, for that reason we added Industry Cards. There are two types of Play Immediately's and Play and Discard and contain good and bad things that can occur on your turn or someone else's. For instance, one card can have you stealing the rounds points or another, causing you to pay union dues, which cause you to lose cards.
After six rounds, the person with the most points is declared the winner, and just like that, you're ready to receive your director of the year award!
What the Film?!
is on
KICK
STARTER
between now and March 20, 2018 and has a funding goal of $5,000.
---
NEW KICK

STARTER

PROJECTS
---
---
See all our Featured Kickstarter.com games and those coming up HERE!
Kickstarter Recap March 16, 2018
Reviewed by
Rodger Moore
on
March 16, 2018
Rating: